Travel Journal
This is our Canada and USA Adventure Travel Journal. Due to the length of the journal, we have split them up into files by year. Check our Table of Contents.
Due to the pandemic, in the first half of 2021 we have only done short day trip adventures and stayed close to home. After we became fully vaccinated in early July 2021 we could begin our cross-Canada trip from Vancouver to the North Western tip of Vancouver Island, all the way to the Easternmost point of Canada - Cape Spear in Newfoundland.
Day trips to scenic areas locally in British Columbia Canada, along with all our overnight trips are detailed on this page. We purchased our empty cargo crew van on March 3, 2017 from Mercedes-Benz Vans in Vancouver Canada.
We have spent exactly 329 nights sleeping in our van since March 2017, which equates to 10.8 months in total nights spent inside the van. If we assume an overall average hotel stay is 150 per night including taxes and fees, we saved ourselves approximately CAD$49350 in lodging costs.
As you will read below, we have slept in our van in major cities like Vancouver, Banff, Calgary, Seattle, Portland, San Francisco, Las Vegas, Calgary, Edmonton, Regina, Montreal, Quebec City, St. John's and many others. Hotel prices there are much higher, and depending on the season, are of limited supply especially on long-weekends. We have also traveled to areas that are very remote, where there are no hotels or campgrounds nearby. As an example of a really remote area is Red Bay in Labrador.
We have slept in our van parked on city streets, side roads, parking lots, forest service roads, on top of mountains and dormant volcanos, near farmland, and very rarely in actual campgrounds. We've been to places below sea level in Death Valley and as high as 4,300 meters at Pikes Peak in Colorado in the Rocky Mountains - and everything in-between.
As of February 17, 2022 we have traveled exactly 171000 kilometers in our van. Assuming an overall average of CAD$1.4 per litre for diesel fuel, and an overall average of 10.2 litres/100km fuel economy, we have paid approximately CAD$23471 in diesel fuel to travel not only on our adventures but we also use this one vehicle as our daily driver for grocery shopping and regular daily life trips by car.
Vanlife is not just about the money - it is about the experience you gain in life. Exploring new cities, camping in remote wilderness, experiencing National Parks. Having a toilet, kitchen, bedroom, a heater and water system onboard make it quite comfortable wherever you are.
A reverse chronological travel listing:
For previous years travel journals: 2020, 2019, 2018, 2017
Update January 2022
Since returning from our cross-Canada trip on 12Oct2021, we have been parked at home the entire time.
We've had catastrophic floods in BC which closed down every route out of Vancouver. The highly-contagious Omicron variant has kept us home and away from people during the winter. BC has had record snowfall and below-freezing temeratures during December 2021 and January 2022 which has also kept us from wandering far from the house. Add to that the most expensive diesel prices in Canada which currently sit at $1.80/L, we have stayed home a lot more than normal.
08Aug2021-12Oct2021 Cross-Canada Trip - Vancouver Island BC to St. John's Newfoundland
Nights This Trip: 66, Total Nights Sleeping in the Van during 2021: 84, Months: 2.8
Sunday August 8, 2021
We left at 1pm from our home, headed along 8th Avenue, and parts of it was closed due to the Abbotsford Air Show. We didn't see any aircraft on our way through. We filled up at the Centex on Huntington Road, and then headed along Highway 1 past Hope, and then along Highway 5 up towards Kamloops. The roads leading to Vernon were all closed due to the forest fires. The Coquihalla had some sections with very thick smoke, and we could see the helicopter dousing the fires with the water tanks it carries on a very long cable. We saw several airplanes in the area as well helping with the fire control efforts.
We took a 90 minute nap in the Merritt area, then continued on all the way to Salmon Arm. We stopped by the Walmart, did some grocery shopping while Gigi downloaded some Netflix shows using the free wifi we could access via the local Telus retail store.
It was 9:30pm, we drove around a bit, and found a spot by the side of a quiet road near to the bottle recyling plant. It was far enough away from the freeway that we didn't hear any road traffic except for a few passing vehicles.
Monday August 9, 2021
We woke up to sunshine and smoke due to the local fires. We had coffee and tea and breakfast, then packed up to go visit the longest wooden wharf in North America here in Salmon Arm. We walked along the wharf to the end, took a bunch of photos and video, and then slowly walked back to the van. We continued on our journey along Highway 1, where we stopped again at a rest stop and the Last Spike. The place where the last railroad spike was hammered to join the western built railway with the eastern built railway.
The Last Spike was the final and ceremonial railway spike driven into the Canadian Pacific Railway (CPR) track on 7 November 1885. One of about 30 million iron spikes used in the construction of the line, the Last Spike came to symbolize more than the completion of a railway. Contemporaries and historians have viewed the Last Spike — as well as the iconic photographs of the event — as a moment when national unity was realized. By November 1885, work crews laying track for the Canadian Pacific Railway (CPR) from the west and the east had converged at Eagle Pass in the Monashee Mountains west of Revelstoke, BC.
We enjoyed lunch before we visited the Last Spike. After taking photos and video of the area, we headed out towards Revelstoke.
Just a short 45 minute drive east along the Trans-Canada, we ended up in Revelstoke. We drove around a bit and parked in the downtown area. Even though we've slept in our van several times here, we only passed through but never looked around. We took this opportunity to see some of the shops, the metal art and walk around.
After we headed up towards the Mountain Resort where the Sutton Place Hotel is, and some very expensive homes overlooking the valley and glacier-covered mountains. We found a gravel parking lot that allows one night of overnight parking, so we found a nice level spot. Mosquitos galore, so we turned on the Thermacell, opened the doors wide open and enjoyed a mosquito-free evening viewing the trees and mountains. Gigi had downloaded many Netflix shows, so she was busy watching.
Tuesday August 10, 2021
We woke up at 7:30am, had coffee and tea and breakfast. Headed out around 9am into town to find the municipal sani-dump, We dumped our toilet, and refilled two of our kegs that were only half full. The potable water spiggot had a regular garden hose, so I connected it to my quick connect fittings and filled the kegs very easily and without any mess. We now have a total of 6 kegs in the vam each with 5 gallons capacity for a total of 30 gallons of water or about 115 litres. We still conserve water as much as possible. We even have the two plastic water containers that we purchased in Edmonton last month as our last resort water storage in the van.
After we left, we drove into Revolstoke and explored the downtown area and the Community Centre, Baseball park, and along the Columbia River. From there we saw a large building, then headed over to that - it was actually the Revelstoke Court House which now houses Service BC.
We filled up at the Shell station close to the highway. Our tank was only half full. So the trip from Abbotsford where we filled up on Sunday afternoon to here in Revelstoke was only 542km and just over a half tank. It cost a total of $71 to top up. Vanlife is great since we don't need a hotel! A big money saver - especially for this trip across Canada and back!
We only drove about a kilometer on the freeway and we saw the sign for Mount Revelstoke. Though we had passed here many times over the years, we never visited. We purchased the one year Canada National Park pass for the two of us for $138 giving us access to all the Canadian National Parks. Otherwise the cost is $20 for the two of us for a period of 24 hours.
We drove up the Meadows in the Sky Parkway for 24km up to about 1800m in altitude. Super scenic drive with several switchbacks. Along the way are a few viewpoints where you can see Revelstoke and the view is amazing! A shame that the smoke blurred the view a bit, but it was still spectacular.
Once at the top there are two parking lots - one for RVs and one for regular cars and trucks. We fit fine with lots of room to spare in the car parking lot. It's just a short walk over to Balsam Lake, where they have a simple 10 minute walking path around the lake. Many small plants and dwarf trees in the area. It's definitely a great place to spend some quiet time at and look at the beautiful scenery.
We went down again, and stopped by at the Monashee Lookout - we counted 7 mountain ridges behind the cloud and smoke, and a large glacier topped mountain. Amazing! We stopped for lunch in the van, then headed back out of the park.
We stopped at the Skunk Cabbage Boardwalk, and unfortunately the boardwalk is still closed due to damage. We overlooked the Columbia River, walked the grounds and walked back to the van for a short nap. After we continued on to the Giant Cedars Boardwalk. We've been there before, and its an amazing 30 minute walk along a wooden boardwalk. We admired the giant cedar trees, the streams, bird chirping and the general quietness of the area.
After that we headed over to Golden, bought some groceries at the IGA and made some grilled cheese sandwiches for dinner. We headed over to the local Dairy Queen along the Trans-Canada and connected to their extremely fast wifi using our Ubiquiti Nanostation. All our photos backed up.
We moved to the corner of the Dairy Queen after hours at night so we could still have Internet and fell asleep on their lot. We were the only ones there.
Wednesday August 11, 2021
We woke up late around 8:30am, after a good undisturbed sleep at the Dairy Queen parking lot - wifi connection all night long. After breakfast we headed east along the Trans-Canada. We found an unmaintained road that went down all the way to the Kicking Horse River. A rough dirt road which gave us some anxiety and a feeling of adventure, it was actually easy to get down but very bumpy in spots and a bit steep in one spot. The clearance and weight of the van really makes these bumpy dirt roads very easy to navigate. We headed right down to the river which is a launching spot for a commercial rafting operation. After spending some time here we headed back up and made it through the steep bumpy portion effortlessly!
We continued on until we came to Field, which we've enjoyed many times in the past. We drove though, took some video and photos. All of the gueshouses in Field were fully occupied by tourists.
We headed over to Yoho National Park and stopped at the Upper Spiral Tunnel Viewpoint at Cathedral Mountain. Luck had it that we saw one of the CP Trains chugging its way into the tunnel, and spiralled out the opposite direction below the upper track. Really neat to witness.
We continued on to the Takakkaw (Cree for Magnificent) Falls, rested a while, then hiked over to the falls. The sky was blue with some spotted clouds, and as we approached the falls the wind blew the cold water spray towards us. We managed to get pictures and video though we did get soaked. Beautiful place to view the falls here.
We continued on our journey, passed the BC-Alberta border and stopped in the Village of Lake Louise, and parked in the Village Market, hooked into their wifi and uploaded our photos and updated our offline maps. The connection kept timing out every half-hour, but the hotspot access was free.
We had some grilled cheese sandwiches for lunch in the van.
I got myself a 750mL can of Busch Ice beer for $5 at the Liquor Store, stored that in our fridge for later tonight. We decided to take a break in Lake Louise so that tomorrow morning we can have an early start along the Icefields Parkway, and perhaps do the touristy thing of taking the ice crawler tour on the Athabasca Glacier. We've never done it before, though we've hiked up the ever diminishing glacier several times over the pas few decades. It keeps getting smaller and smaller due to global warming.
We headed 6 minutes east to the Lake Louise Overflow parking lot, backed up to a flat piece of plywood, and used that as my platform to do a very simple and cold shower out the back of the van. A bit of dish soap, a few sprays of water from our sink sprayer, lathered up, then washed it all off. Felt clean again. Afterwards, sat back with my beer and the sliding door wide open enjoying the sound of the train chugging up the mountains with the horn blaring. No mosquitos came in at all due to the Thermacell. Love that thing!
Thursday August 12, 2021
Woke up at 6am, made coffee tea and breakfast, then headed out around 7:30am towards Highway 93. The views of this highway are out of this world, and is one of the most beautiful drives from Lake Louise to Jasper that you will ever experience. We stopped at a couple places to take in the early morning sunshine and perfect blue skies. We also stopped to dump our toilet.
We stopped so Gigi could rest for a couple hours down a gravel road on the right hand side just south of the Highway 11/93 intersection. The dead-end road led right to the North Saskatchewan River. I sat outside with a couple cups of coffee, enjoying the peacefulness for a couple hours while Gigi slept.
Afterwards we went on our way to the Columbia Icefields - this place is stunning. Glaciers everywhere. We booked a tour for 3:30pm which cost $203 for the two of us to have a bus take us to the custom-made Mercedes ice-crawlers. Once on the ice-crawler, we went up a 32 percent grade - the steepest grade on a non-commercial road in North America. It took us to a section of the Athabasca Glacier for us to walk on, take photos with the Canadian Flag, and 25 minutes later we got on the crawler again. We then boarded a bus to take us to the Skywalk which is a semi-circle of glass 1000 feet above the valley. We could see the glaciers in the distance and the ground below. Along the walk are some signposts about how the Skywalk was built, the different glaciers, global warming affects, etc.
Afterwards, we headed back on the bus and then back to the car parking lot. We spent 3 hours on this tour, and it was well worth it. We had dinner and our first water in a few hours (there are no washrooms on the glacier!). We headed over to the parking lot nearest the glacier for a closeup look, then headed back to the RV parking lot to spend the night. The lot is an informal camp site with self-registration for $16.50. We parked facing the glacier, with the van level side to side, but with the nose down on an angle. Watching the sun rays fade away to darkness was amazing.
We used our Ubiquiti Nanostation to get a really strong signal about 400m away at the visitor centre. Really good speeds and free and open access. It was getting cold, so we ran the Espar diesel heater on low to keep it comfortable in the van.
We looked outside around 11pm, and could see the Milky Way, and we observed 5 shooting stars. Amazing free show thanks to Nature! We've never experienced the Milky Way before so this was really neat. Jasper National Park is one of only two parks in Canada that are designated as Dark Sky Parks. We were hoping to see the Northern Lights but no luck.
We woke up again at around 2am and looked outside again. The Milky Way had moved on, and we still saw lots of stars in the sky.
Friday August 13, 2021
Woke up late around 8am, enjoyed the sunshine and coffee, and headed out at 10am. We headed north, and so much scenery, we stopped at many different places along the way.
We stopped by at Honeymoon Lake Campground to explore the lake a bit. We parked at the day-use parking, walked over to the lake which was very clear, and there was a board attached to two wood stump logs and we sat on that bench with our feet in the water. The rocks were very large and smooth by the shore, but a bit slippery due to a thin layer of algae.
We got some fresh drinking water from the tap by the parking area. Filled up our bucket, and used the water pump in the van to top off the kegs. Now we have full tanks of water once again.
One of the best stops was the Athabasca Falls. The parking lot was nearly full, and a short 200m walk over to the roaring falls made the trip worthwhile. The power of the water carving through the hard rock was amazing to witness. Many potholes in the rock formed by water, and the bottom of the falls will keep getting lower as time passes due to the force of the water.
We took Highway 93A which runs parallel to Highway 93, since we never took this route before. It's a slow 60kmph road with several campgrounds along the way. We stopped in at one called Wabasso Campground (Canada Parks) just to drive though and see what it was like. Several campsites are along the Athabasca River.
We headed into Whistler in Jasper National Park and checked out the campground, $26 per vehicle and they allow free showers with each stay. We wanted to take a shower so they directed us to the Aquatic Centre in downtown Jasper.
A SkyTram is only 4km from the campground, and we went to check it out. We drove over, it was very hot and muggy but the skies were crystal clear. Everything was sold out until Sunday, so we left and headed into Jasper.
We headed over to the Aquatic Centre in Jasper, and the showers were only $4.50 each. We cleaned up, relaxed a bit, then headed for the 4 hour drive to Edmonton. We filled up with $71 worth of diesel fuel for $1.23/l in Jasper and then left at 4pm, and arrived at 7:45pm in West Edmonton's Jollibee Chicken for dinner.
The parking lot was full, so we headed in the van to a small mall area at 178 St. NW and 98A Ave NW. Found a ShawGo wifi hotspot and connected again with our Ubiquiti Nanostation for free Internet access inside the van. We left around 10pm, to find a spot in a local industrial area along 106A Avenue in Morinville. Hopped the passenger side wheels up on the curb and the van was perfectly level. Since tomorrow is Saturday, no workers should be in the area. Perfect spot!
Saturday August 14, 2021
A very quiet night, and Gigi watched her NetFlix shows until 2am. Another camper with a large trailer had parked in front of us, so it must have been a great spot to stay!
We slept in until 9am, and relaxed until about 11am. We had access to the local ShawGo access point which had Internet access until exactly 11pm last night, and it worked fine again when we woke up.
After getting ready Seafood City was our next destination for snacks and lunch which consisted of their Grill City chicken skewers, rice, and mango salad - yummy and filling! All for $22 which was a bit on the high side, but very good tasting food. Lots of Filipinos head to Seafood City, which is very similar to the one we visited in Tukwilla near Seattle WA.
After we headed over to Shoppers Drug Mart to get some facial cream for Gigi, and then we headed to Cabelas in North Eastern Edmonton to buy a couple button shirts that wick away the moisture and sweat. Its hot here, about 33c and today was very smokey from the BC wildfires. Gigi shopped at the Old Navy next door and bought a T-shirt that was red-tagged on sale.
We then drove a bit north to the local Walmart to get some deodarant sprays and powders - much needed for vanlife in the heat! We bought some Thetford Campa-Chem in the tiny 6-pack bottles. It seems there is a shortage everywhere of the Thetford chemicals in BC and Alberta so far - the litre bottles are nowhere to be found, and their alternate "Thetford Fresh" really stinks - we have that kind and the smell is worse than the urine and poop itself. I wish they didn't make that kind. Bought a couple cans of Molson Dry, something I had grown up with in Toronto during University, and have been unable to find in BC since 1990. To find it here in Edmonton was a real treat,
We filled up at the local Shell station with diesel for $1.19/l. Total cost to drive from Jasper to Edmonton was $46 with 406km travelled.
We went back to the Cabelas area and parked near the CinePlex movie theatre building and hooked up to the ShawGo free wifi using our NanoStation.
Hardly any photos and zero video in the Edmonton area. It's a nice and cheap place to live, but it is sorely lacking scenery. We are used to the scenery in BC, and especially the Rocky Mountains. I suppose the route from Jasper to Northern Ontario will be quite boring. But we'll make the best of it!
We found a place behind the Manning Centre, it was not level but we were tired. After a couple hours of being very uncomfortable we left around 1am about a kilometer away in a residential area, easily found a very level spot and fell asleep.
Sunday August 15, 2021
Woke up around 8:30am, then got up immediately to drive over to Costco and get ready. We don't want to have our breakfast in the residential area.
We bought more baby wipes for our "showers", garbage bags, some canned salmon. Packed up and left towards Saskatoon.
As we drove further east of Edmonton, we began to see the landscape change to almost flat land with rarely a hill.
We came across Elk Island National Park, took a photo at the entrance, and had the same high expectations as the other National Parks we experienced just last week. Unfortunately reality did not meet expectations - the land is flat, the water in the Astotin Lake had a green bacteria / toxin in the water with signs telling us not to touch the water in the lake. Nobody was renting the canoes. Finding a public toilet was easy, so we dumped our toilet and headed over to the Astotin campground. There we found fresh drinking water, and topped up the kegs. Since the water spigot did not have a threaded end, we poured the water into our red bucket, and sucked the water out of the bucket and into the kegs using our Remco 3200 pump. This method works very well and with minimal mess and hassle. Afterwards we parked in the Astotin Lake parking lot, ate lunch, and walked over to the sandy beach and over to the historical Ukrainian House. It was a Sunday, so there were many families enjoying picnic at the beach - but nobody was swimming.
We drove around the park, and as we exited we saw several large bison crossing the park road.
We headed out of the park after spending a couple hours there and headed east on the Yellowhead Highway 16, and began to see the first of many Canadian wheat fields. We drove into Vermillion just to get a sense of the small town, and drove up to a local wheat field and picked a couple strands of wheat grass - the wheat berries were very hard but tasted good. We got some photos and video and then headed on.
We continued on to our final stop of the day at a city called Lloydminster. It is the only Canadian city that straddles the border of two provinces. There are 4 very tall red metal beams along Highway 17 which marks the border between Alberta and Saskachewan. With one step, we could litterally be in another province and back to the other. We walked around the area a bit, took some photos and headed back to the van.
We searched for some wifi in the local shopping mall area, but unfortunately when we connected the speeds were very slow. We tried 5 or 6 different places, with varying speeds. We headed down to a McDonalds along Highway 17 where the speed was very good and we could download some more NetFlix episodes.
It was getting dark around 9pm, and found a nice level spot on the parking lot of the Best Western hotel. We backed into our spot just next to the Best Western signage by the main road, closed everything up, got ready and went to bed around 10pm.
Monday August 16, 2021
Woke up around 3pm since I could not sleep anymore, and made some coffee while Gigi slept. We moved over to the Tim Hortons parking lot and got a bit better wifi for the morning. It had rained a bit overnight, and it mixed with the fine ash from the wildfires and coated the entire van with this sticky mixture.
We headed east along Highway 16, with not much to see other than oil tanks and wheat storage bins and railway tracks and trains.
We came across the Battlefords - both Battleford in the south and North Battleford north of the North Saskatchewan River. In Battleford we saw Canada's Biggest Baseball Bat, then we headed over to the Fort Battleford National Historic Site but they are closed on Mondays. Got a few photos of each place. We passed by the Fred Light Museum and took some photos of the outside, but did not enter.
We drove across the bridge over to the North Battleford area, drove around to get a feel for the small city, and headed over to Sobeys grocery store in the northern part to get some groceries - guacamole, some low-salt bacon, some tortilla shells and more yogurt. This all makes for good food combinations with what we have in the van.
There is a place in Cut Knife, about 50km west, where they have the world's largest Tomahawk. Even though it was a long round trip, we did it since we don't think we'd come back here again. Took some photos of the tomahawk, and then headed back to North Battleford, got fuel and then headed out east again towards Saskatoon. More wheat fields, oil tanks, wheat elevators, railway tracks and trains. Nothing much to see.
We arrived in Saskatoon in the early evening, went over to the Riverside Pool area, parked and rested for a while and I walked a bit along the riverwalk to get a few photos. After, we headed around the city driving around to get a feel for the area before settling in a safe spot. Some areas of the city seemed unsafe with several street people hanging out - much like any other city in Canada or the USA - and we know not to park in those areas, especially overnight.
Finding a spot on King Street between 2nd and 3rd Avenue, we hopped the curb with our passenger wheels to get the van perfectly level, and called it a night. Found a ShawGo wifi spot to connect our Nanostation with, and had Internet all night long. A very peaceful sleep, with a bit of traffic noise overnight from the main 2nd Avenue.
Tuesday August 17, 2021
Woke up around 8am, and since we had parked near a bunch of active busineses and residents, we decided to move first before eating and drinking. We headed over to the west side of the Robin Hood Flour mill at 1st Avenue North and Princess Street, found a level spot along the sidewalk, easily connected to ShawGo wifi using the Nanostation and head breakfast.
We took it really easy today, relaxing quite a bit, We headed over to a couple Asian/Filino food stores in the Conferedation Park area west of the city. There we bought some Hoopia at the Global Pinoy Food Store and then some smoked eel canned fish at the Great Asian Market store (this stuff is great with fresh rice!).
Then we headed north over to the Husky Travel Station along Highway 16 north of the city close to the airport. There, we took a free shower - the Husky Rewards Points system was down so the clerk gave us the key to Shower #1 and we took a good long shower. Our first one since Jasper Alberta.
After that we headed over to the Meewasin Trail on the south side of the South Saskachewan River, had a late lunch around 2pm, then took a good two hour nap - the cloudy day and then heavy rain as we slept made for a very lazy day here in Saskatoon. Our sinus and throat are irriated since we arrived here - a strong smell of wildfire smoke and pollen in the air had been troubling us the past day.
After our nap we headed over to explore the University of Saskatchewan, University Hospital grounds and the area in general. Some very nice homes along the University Boulevard, and some mansions along the Saskatchewan Cresent facing the river. Wow! Overall, Saskatoon has a really good vibe in the city.
We drove around the downtown core again in daylight to get a better sense of the city. The riverside areas are our favourite parts. Got a bunch of driving video and a few pictures.
We went back to the same place as this morning at 1st Avenue and Princess Street. leveled the van by hopping the passenger side wheels on the lower part of the curb by the sidewalk, and made it our home for the night. Our view was of a barbed wire fence and white storage containers. But we have access to ShawGo wifi and a quiet industrial area. Good enough.
Wednesday August 18, 2021
Woke up early around 7am, had breakfast and left Saskatoon and headed east along Highway 16. Today was a long day of driving towards Winnipeg.
We passed by countless wheat fields, as we entered Langian SK we found a sign with a RV dump station. Stopped and pulled the cover off the sewer hole, almost passed out from the stench, but managed to dump our toilet quickly and cover up the hole. We cleaned our toilet, and then headed on our way once again. Lots of driving again. Literally not much to see other than wheat fields, trains, grain storage bins.
Stopped by in Yorkton Saskatchewan to get a feel for the city of about 16,000 people. Stopped at the Petro-Canada station to get diesel for $67 to fill the tank. Drove around the city for a while before stopping in front of the Pizza Hut to grab some free wifi with our Nanostation, then headed on. We found that the Yorkton Chamber of Commerce has a drinking water hose in the back parking lot, so we willed up our kegs. Filling our red bucket first with water, then using our Remco pump to pull the water from the bucket into two of our kegs. Three buckets of water were needed to fill up completely.
Passing through the unremarkable Saksatchewan / Manitoba border we noticed immediately the change in landscape - from flat prairie land to a land with more short trees and the first encounter with a hill. More trees in this part of the country. A time change from Mountain Time to Central Time (one hour ahead). Russell Manitoba was our next stop just to get a feel for this small town - residential area with a main street filled with restaraunts and services like banks and hardware stores.
It was starting to get dark around 8:30pm at night, so we entered Foxwarren Manitoba, a tiny village with a Canada Post office that has been open since 1886, some residential homes, a community centre and a municipal camp ground behind the community centre. There are no marked spots, but there were numbered electrical outlets on posts. We drove onto the grass next to one of the posts under the trees. Only one other camper with his trailer was there. We found a perfectly level spot, and called it a night. The campground was close to the CPR Rail, and we heard a couple of trains and their horns passing in the night. Other than that it was very quiet. It rained all night long.
Thursday August 19, 2021
Woke up at 8am Manitoba time, had breakfast, cleaned up and headed out again on our journey towards Winnipeg.
We passed through Shoal Lake to look around the town a bit since it was on the lake, then headed towards Minnedosa. Minnedosa is a very beautiful city and we felt very comfortable there - very clean, and has a lot of military history in the area. We stopped by the Bison Park and viewed the huge animals from the road - we don't see these creatures in BC at all, so it was quite a treat for us to view them here. We drove over to the campground to check it out, which is right next to Minnedosa Lake. We drove around the area to get a feel for the town. It's only a couple hours away from Winnipeg so it would be a great place to get away from the city and relax here during the summer.
The Portage La Prairie VIA Rail Station lay abandoned next to the tracks, with a recently broken glass window and an empty room inside except for an old Pepsi machine. Its too bad, since back in 1989 I passed through this station on the way from Vancouver to Toronto on one of the last scheduled Via Rail Canadian trains. That was a fun trip - 5 days in a seat, no shower at all, and lots of beer drank with friends I had met along the way. If you ever get a chance to travel Canada by train you should do it at least once in your life - the scenery is spectacular especially as seen from the dome rail car. We stopped by the World's Largest Coke can nearby the Canadian Tire, took some photos, and continued on our way. In Portage, this is the only place in Canada where both the CP and CN Railways meet.
We headed into Winnipeg, and headed towards The Forks National Park, found a parking spot just below the hill where the train tracks were, and explored by foot. There is a market, and a lot of outdoor patio seating area overlooking the area where the Red River and the Assiniboine River meets. We sat down a while to enjoy the view, but it was short lived as we were swarmed by yello-jacket wasps - harmless but nonetheless annoying. Many people sat on the patio enjoying beer but seemingly obivious to the wasps. I suppose we're not used to it yet!
We continued our walk along the riverbank, coming across several historical plaques and points of interest, We took some photos by the huge WINNIPEG sign, next to the CN Building. We walked by the Children's Museum, intrigued by the logo - it looked like a boy and girl and a face at the same time, along with the lowercase 'm' for museum, and also looked like an owl representing wisdom. An interesting logo which we admired and thought about for a while.
Coming across the Forks Market, we stepped inside to see numerous restaurants and shops. The building was packed with people easting and enoying their dinner inside. A very busy craft brewery was also inside with several different offerings, mainly IPA which I personally don't fancy anymore - I prefer the lighter lager or pilsner beers - especially simple ones from Germany and Eastern Europe.
We headed back into the van, drove along the Waterfront Road to the north, and saw some beautiful homes and newer condos along the way. Walmart was our next stop to get a few groceries, and from there a bit more exploring with the van through different neighbourhoods. House prices are very cheap in comparison to Vancouver - we saw some smaller 2 bedroom 1 bath older homes in the 200k-300k range. They were probably cheaper pre-pandemic, but still much more affordable than Vancouver. Winnpipeg is also known as Winterpeg, as the winters here are one of the coldest in North America.
Back in 2016 we travelled with our previous vehicle across Canada from Vancouver to PEI, then headed back through the shorter USA route. We had already visited the Canadian Mint here in Winnipeg, so that is not on our agenda on this trip. The 2016 trip was in a VW Jetta TDI, and we had used Marriott Hotels for most of the journey. I had over half-a-million points earned via work trips in Mexico City, so we used those points on free hotel rooms for much across Canada and the USA. That saved literally thousands of dollars on that trip. The downside to that was we had to drive very long distances during the day to get to the next Marriott hotel, and we were pressed for time since our son had to go back to school again in September. That was one of the main reasons for buying a Sprinter van - to leisurely travel anywhere we want and not worry about where we were going to sleep.
It was getting dark around 8pm, so we drove around looking for a good level spot and found one in front of West Wolseley detached homes very close to the Assiniboine River. We parked, locked everything up, closed the curtains, and stayed very quiet inside the van so not to arouse any suspicion. Since our van looks extremely stealth (no solar panels, no roof rack, no ladder, no fancy tires, black, clean) it is actually quite easy to park in residential areas without any issue so far, even with out-of-province plates.
Friday August 20, 2021
Woke up very early and at around 6:30am started the van up to drive a couple blocks over to the local A&W at 1529 Portage Avenue across from Polo Park, and parked in their lot to grab their free wifi using our Nanostation. It had rained heavily during the early morning, and a temperature of about 15c outside.
We headed over to Fort Gilbrater, and arrived at about 9am an hour before opening. Parked the Sprinter just outside the Fort and took a bunch of Sprinter porn photos. One of the workers named Bryden came over and we got to chatting. The Fort is actually closed to the general public but he actualy let us in at the entrance to take a bit of video and photos, but could not let us go in any further. We felt privileged to be able to enter past the gates considering the pandemic situation. The weather was dry with a bit of sunshine, but the clouds did start to loom.
After, we headed over towards the airport, and the rain just dumped out of the sky. Huge and heavy downpour with lots of wind. We arrived at the Air Force Heritage Museum and Air Park with vintage war aircraft on display and was easily seen from the road, so we took photos and video from the van. After, we headed slowly out of town throught the heavy rain, and drove over to the Canadian Mint which we had visited 5 years ago. We took video of all the flags and plaques of all the different countries the Canadian Mint provides coins and paper bills for - basically over 60 countries are the Mint's customers. Hardy anyone was in the parking lot - normally the lot is filled with vehicles from all over North America.
We continued along to Highway 1, with heavy rains slowing all the traffic. We filled up with diesel at the Husky Station in Richer Manitoba, and got 59 Husky Points, good for one shower next time we stop at another Husky Station with showers. We stopped at Falcoln Beach for a rest, and an overview of the beach sand and lake. The heavy rains had not reached this area yet, but after an hour it had poured again on us, with lots of lightning and thunder. We continued on our way along Highway 1 to Highway 17A, bypassing Kenora. We took that route before, so we tried 17A this time for a change in scenery. We continued along Highway 17, and around 4:37pm local time we both received an Emergency Alert on our phones with the following message: "At 4:37pm Eastern Daylight Time Friday, Environment Canada has issued a tornado warning for this mobile coverage area. Take cover immediately if threatening weather approaches.
The rain and wind were extremely fierce, throwing the van side to side in the lane, and with visibility near zero in some parts with all the heavy rain. It was very difficult driving in some parts of this route during the storm. One we entered Vermillion Bay, the rain had died down but the winds were still quite strong.
We drove into Dryden to look around a bit, and quite stinky due to the Domtar paper mill operating by the water. No rain and hardly any wind in this area when we drove through.
We continued on along Highway 17 through Ignace, where the cloudy skies were replaced with heavy smoke from nearby wildfires. The sun was an orange red through the smoke. We passed through Upsala looking for some fuel since we were at the half-way mark already. The only fuel station was closed for the night, so we continued on to the next one east of Savanne - an Esso Gas and Punjabi restaraunt. Filled up the van at $1.50/l for $73 worth, and since it was nearly dark, parked with all the other truckers and campers on their parking lot and called it a night.
Lots of driving today, with 8.5 hours and over 650km travelled.
Saturday August 21, 2021
Woke up at 3am from extremely heavy rain and wind, and we moved the van away to a paved part of the gas station in case the storm would be similar to the one from yesterday. Luckily it was short lived. Slept in until 8:30am with a very deep sleep for both of us. Had breakfast and headed east again along Highway 17 all the way over to the Central/Eastern Time Zone Monument sign. We dumped our toilet here into one of the two porta-potties, dumped our garbage into the trash bin, took a few photos and continued on.
We drove over to the Kalabeka Provincial Park in Ontario, paid the $5.25 vehicle fee for 2 hours since we came on a Saturday. Monday to Thursday, there is no fee to park your vehicle to see the falls. Just a very short walk over the parking lot, we say the falls - very pretty, and we walked around, over to the several viewpoints and over the bridge to the area where the gift shop is.
After spending a good hour there, we headed towards Thunder Bay. We stopped by at the Husky Station along Arthur Street West near Twin City Crossroad and we both took a hot shower for 50 Husky points. Very handy to use this service, and 50 points is easily obtained by filling up the van with diesel for at least 50 litres.
We had a simple lunch inside the van, connected our Nanostation to their very fast wifi, downloaded some more NetFlix shows and uploaded our photos to Google Photos.
We headed over to the Marine Park in Thunder Bay, walked a round over to the water and back to the car. It was close to the Marriott Delta Hotel, and there was a beautiful boat harbour close by. We then drove a bit around the downtown, then headed east. We went over to Lakeshore Road and then down to some of the roads by the lake, and we saw many summer vacation homes with spectacular views and sandy beach behind them. Must be nice in the summer, and terribly cold in the winter!
We continued on through Nippigon, and then took Highway 11 left at the fork. We've never taken this route before, and very glad we did because it is a very scenic drive along the many lakes next to the highway,
The worlds largest snowman is in Beardmore, we passed by smiling, and then continued on to Geraldton where we stopped at the Esso station in town, paid $1.57/l for diesel - the most we have ever paid for the van so far. We only consumed 42 litres worth since our last fill-up, but wanted to have a full tank since up here the stations are not always open and are far apart. Just to be on the safe side!
We drove into Longlac as the sun was setting, drove around a bit to get a feel for the town, and found a spot on the north side of the highway with other trucks on a gravel field, found a level spot, had some dinner and then went to bed.
Sunday August 22, 2021
Woke up at 8:45am local time, had breakfast then headed out and drove towards the next big town called Hearst. There we bought groceries along with a BBQ chicken and made ourselves chicken wraps in the van. Most of the staff there spoke French, and many of the signs are bilingual, much different than we are used to on the West Coast.
Our next stop was at Mattice, where we came across a washroom with a free hot shower! We stopped, had a shower, then rested for a while in the shade by the tree. We drove over to the next city called Kapuskasing, where they had a train museum, free bicycle rental, fresh potable water and a dump station.
We took advantage of the fresh water, and we dumped the little bit we had in our toilet, and used the available hose to clean out the toilet. Headed across the street to the Esso station, topped up with diesel for $1.35/l and 42l worth, and then continued our journey to Cochrane. We drove in just to take a look at the town, and found out that Tim Horton - the famous hockey player - was born here and started his coffee business in Hamilton in 1964.
We arrived in the evening on a Sunday, so everything was closed. We came across the Polar Bear Sanctuary - its the only captive polar bear facility in the world dedicated to polar bears. The sun was starting to set as we drove on to the next town called Matheson where they had a Great Fire of 1916 and many people died. We parked in the gravel lot by the gas station along the highway, found a level spot, ate some dinner and went to sleep.
Drove a total of 520km and 6.5 hours today.
Monday August 23, 2021
Woke up at 8:15am in Matheson, had breakfast and then headed out. Very sunny with blue skies. The sign for QUEBEC pointed us along Highway 101 through the backroads of Northwestern Quebec, and we got ourselves a good photo opportunity at the side of the road with the Quebec border sign about an hour later. We headed along Highway 383 through Duparquet, then down 101 again into Noranda. The towns and cities along the way are very scenic, and the rolling landscape and many lakes in the northwest is beautiful. We stopped at the Esso station in Noranda, paid $1.284 per litre for a total of $43, again just to top off the tank at the half-way mark. We didn't stop in Noranda for anything else - wish we had months and months to travel and explore, but it is unfortunately reality of life that we can't do everything.
Back onto Highway 117 we stopped in Val D'Or at the Walmart to get some groceries, including some roma tomato and onion, and then back into the van over the the closest A&W to grab their free wifi with the Nanostation and had lunch in the van. Using yesterday's chicken, we shredded it and made chicken quesadillas. Yummy!
Along Highway 117 south we found a neat little rest stop Halte Villebon where they have individual spots itucked under the trees with a picnic table. Rested for about an hour, and then continued on the long and very scenic journey of Highway 117 into Grand Remous, and then into Village de Labelle. OpenStreetMaps (we use OsmAnd) said there was a shower in the area, but when we arrived it was a private campground, so we headed out again and finally stopped for the night on a large narrow gravel parking lot inbetween Chem des Faucons and Route 117.
We travelled 644km in 8 hours, with an average of 9.2l/100km.
Tuesday August 24, 2021
At 7:30am we woke up, it was a noisy night where we parked - on a gravel lot between the main highway 117 and another secondary high-speed road. Quite a bit of traffic during the night. So this was not the ideal spot to park.
We drove towards Montreal along Route 117, and then Route 15, stopping at the Esso station in Saint-Sauveur to fill up on diesel for $1.18/l - the cheapest so far in our trip to date. Dumped our garbage in the disposal bins there, cleaned the bug-ridden windshield again, and continued on to our destination in Montreal - the bagel shops at the Mile End section of Montreal.
We found a parking spot, paid the $3.50 for an hour and a half, and walked over to the famous Saint Viateur bagel shop. Picked up 3 very fresh and hot sesame seed and 3 poppy seed bagels along with a salmon spread for $11.70 total in cash. In Canmore, it cost us $12 for two bagels with some cream cheese. If you love bagels, you must come to Montreal. We sat on a public bench nearby and dipped our bagels in the salmon spread. So amazing to eat! It was a very hot and humid 32c here around noon, and it was a bit uncomfortable. The change from the cooler weather in the north to the very muggy hot weather in Montreal came as a bit of a shock to our bodies.
We walked around in the neighbourhood to get a good feel of it - much like parts of Vancouver and San Francisco. Some very old buildings, very multi-cultural, and a very safe and good feel of the area. As if the bagels weren't already filling enough, we walked over to a Carribean food place called Lloydies and tried one of their spicy beef patties - very good ones they make there, and very similar to the ones I tried in Toronto a couple years back on a business trip.
We headed out, passed by the University of Montreal, drove around their campus a bit, and then headed out towards Ville Marie - Old Montreal as it is also called. Parking in front of Ca Lem Sorbets and Glaces, we walked in and had two scoops of lemon and vanilla gelato, ate inside the van, then bought two hours worth of parking for $7. Parking in the area can be tricky, with many restrictions, but basically all we needed to find was a sign with P$ andyou just use a credit card, enter in the parking spot number like P534, say you want the maximum time which is two hours in this zone, pay, and you get a receipt.
Walking along the main and side roads all the way over to the Notre Dame Church. We walked along Rue de la Commune E and over the very pedestrian-friendly Rue Saint Paul E. Lots of shops to look at, many very old buildings from the 1700's, cobblestone streets. The area reminded me of the old Zolcalo area of Mexico City - similar style of architecture, similar type of old wooden doors, basements, narrow driveways, etc. We could see the clock tower, the Molson building, the King Edward Montreal Port, and in the distance we saw the old Five Roses flour mill.
We headed back to the van after buying a large 1.5l bottle of water for $3.75 at the local convenience store. Very thirsty we drank nearly the entire bottle within minutes.
Drove over to the very famous and considered the best poutine in all of Montreal - La Banquise - we were here exactly 6 years to the day back in August 25, 2015. There was a large lineup for both takeout and at the outdoor patio. We placed our order for the Grande Classic Poutine - fries, cheese curds and gravy - all for $16.05 including tax on our credit card, and ordered for takeout. Within about 15 minutes we had the poutine and brought it over to the van which we parked illegally a couple blocks across the street. We were in the permit parking zone, and having a 170 Sprinter, its definitely not easy to find parking. But luckily no parking ticket, so we got things ready inside the van, had the sliding door wide open with a view to the houses next to us, and ate our poutine. Yummy! A lot of salt from the gravy and cheese, but very tasty. We'll regret it later - but at the moment it was very good.
We headed out looking for a level place to park legally for the night - drove across Montreal seeing lots of buildings, people, shops as we drove by, and finally settled next to Parc Gadbois and across from a retirement home. We hopped the Spinter passenger wheels up on the curb by the sidewak and saw that it was level. A number of old senior residents were outside and saw us pull up - must have been something for them to talk about! It was still hot outside, perhaps 28c, so we left the sliding door open, and a few people walked by, some not looking inside, others did. But no matter, the breeze was refreshing and it helped to cool down a bit.
Wednesday August 25, 2021
Woke up around 7:30am, and left right away to find a sani-dump station in La Prarie, about 20km from where we parked. The toilet was getting full, and we didn't want to be in a situation where it was too full. We dumped, cleaned the toilet, then headed over to the local Tim Hortons, parked, connected to their wifi and stayed a couple hours while uploading photos and downloading some NetFlix. We took this opportunity to chill out for a bit.
Once we were done, we headed back into Montreal, taking one of the many different bridges to go towards the 1976 Montreal Olympic stadium. Lots to see on the way there, and found easy parking (probably illegally) very close to the stadium by the residential area. A lot of construction and renovation happening in the area, so there were hardly any people around. We walked past all the stadium and Olympic related signs they have posted outside the stadium. Very interesting, and took a photo of each one. The stories were both in French and English. It was very hot and sunny, both of us sweating, more so myself.
Turned on the air-conditioner full blast as we headed over to the Jean Talon Market - a mix of indoor and outdoor farmer market. We arrived around 3pm and stayed for a litte more than an hour looking through the different stalls of fresh fruit and veggies, cheese and more cheese and pastry. We wandered into La fromagerie HAMEL and looked at the very wide variety of cheeses they had there - Quebec dairy is one of the best in all of Canada, so we bought a small pack of cheese curds and a couple sticks of pepperoni, went back outside to sit on a picnic table, and enjoyed our simple little snack. The cheese curds squeak as we bit into them - the texture amazing, and hard to find back home in Vancouver.
Afterwards, we headed back into the air-conditioned cab of our Sprinter van, a relief from the very hot and humid weather here. We came across an IGA, stocked up on some very inexpensive Labbat Dry and Molson Dry beer and some sparkling mineral water. We took the long drive over to the Lachine Canal and Rene Levesque park areas, say many people cycling along the pathways, enjoyed the view of the canal where dragon-boaters were practicing, people fishing, and enjoyed the sunset by the Saint Laurence River around 7:30pm. Here the sun sets much earlier since we are much further south than Vancouver, and even more south than Jasper and Edmonton.
There is a park called Parc Dollier-de-Casson along the canal, and they allow you to park for 24 hous. The spot we chose was level and when we arrived around 8:30pm the parking lot was mostly full. It was a very hot and humid 33c here, and stayed like that nearly the entire night, wth no breeze making it very uncomfortable to sleep.
Thursday August 26, 2021
Woke up to sunshine around 8am, had coffee, packed up and headed on our way to Quebec City. We drove over from where we had parked to the Flemming Mill, just 5 minutes away. William Flemming who was a Scottish immigrant built the first flour mill back in 1827. It does not seem to be very well manicured or cleaned outside anymore, and they do not provide indoor tours anymore - just free outdoor tours at certain times, or like what we did - walk around it ourselves. The parking lot allows for 24 hours of parking, and would also be very quiet at night since it is located in a residential district off the main road.
We continued driving through the residential areas, until we came to the highway 20 east. We stopped at Exit 152 at Petit Trucking where they have showers - we got a nice clean shower room for $10.01 including tax. Good to have a shower after a few days with warm water! The heat and humidity here was quite uncomfortable, but when we drove we had the air conditioner on. We stopped for a while a bit further on, had lunch in Drummondville next to the A&W but their wifi speed was very slow, went on a bit more, rested for a while in Notre-Dame-du-Bon-Conseil by the Esso station since we did not sleep well from the heat the previous night.
We got into the Quebec City area around 5pm, drove through the main road to the old historical area, found a parking spot 1334, backed up our video files to the external hard drive, made a duplicate to the laptop, wiped the SDcard to make room for more video. We paid $6 for parking until 9pm, after which it's free to park until 9am the next morning. We are parked up very close to the stone wall of the Quebec General Hospital on Rue de Ramparts.
We walked about two hours taking in the sights - the cannons, the stone walls, the most photographed hotel in North America - the Fairmont Frontenac, watched a juggling show, listened to live music, watched the sunset and the buildings lights turn on as the evening progressed. This is definitely one of Canada's most beautiful cities, and is also a UNESCO World Heritage Site. I wish we could spend a few months just living here to experience the old part of the city. So many boutique hotels, cafes, restaraunts, shops. It's like a bit of old-style France right here in Canada.
The streets are very narrow, and many are one way. We got back to the van at 8:40pm and had some dinner and lots of water to drink. It was unbearably hot and humid, but around 9pm it started to cool off a bit. We left the sliding door slightly open so that we'd get a draft of wind coming into the van at night. We were parked right up against the wall of a very tall building, so nobody would be walking by us on the sliding door side. By 2am, the cool air finally arrived at 18c, and needed to cover ourselves with a blanket.
Friday August 27, 2021
Woke up at 7:30am after a very good sleep with the cooler weather. More cooler weather with a high of 24c is expected today and the next few days. Finally - relief from the excessive heat!
We had a quick breakfast, then did our own driving tour through all the one way streets, recoding as we went. Got stuck twice behind some larger delivery trucks, and had to reverse through the narrow street. Lucky our German-made European Sprinter van is designed for Europe's narrow streets, unlike the larger ProMaster and Transits, so we could manouver our van around the very tight corners with just inches to spare. We headed up to the Citadel - an active military fort. A stop light signalled us up the single narrow lane to the top of the Citadel. Vehicles 10m in length and 2.5m wide or less can only go through, so we made it with room to spare, though we did travel slowly and carefully.
Once at the top around 9:15am, there was lots of parking available. Not many tourists due to the pandemic, so it's a perfect time of year to visit. We got an entrance ticket to do the self-guided tour of the museum and the outdoor facilities for $18 each. We left at 2:15pm, a total of 5 hours at the Citadel. We saw a change of the guards ceremony, took pictures with the guards, toured the museum which had thousands of artifacts and history in both French and English. Unfortunately they don't allow photography inside the musuem or inside any of the other buildings like the Chapel. We toured the outside, saw the Canadian-built military tank, the Chapel with incredibly thick stone walls - it was once the site to contain gun powder, so they made the walls really thick just in case of an explosion. The museum was once a jail for prisoners, then converted to sleeping quarters for the 22nd Regiment members and staff.
We walked up to the top of the wall and viewed the Saint Laurence River, the city and the skies were really clear so it was a perfect day to do this. We had to move our van mid-way through our tour because we were told by the staff that our van was too long and could potentially block a large firetruck from entering the facility. They guided us to a separate parking area along one of the fortress walls, which was luckily in the shade.
Once we finished the tour we drove out the various parts of the Old Town area, including the Legislature, the Fields of Abraham, the Port of Quebec, and the surrounding streets. It was very busy with traffic in the late Friday afternoon. We parked again close to the Quebec City General Hospital building like last night, but in spot 1330 next to a large white storage box. We arrived at 4pm, so we paid $12.25 to park until 9pm with a maximum of 5 hours allowed. This allowed us to park overnight for free until 9am the next morning. We had dinner, rested for a bit, then headed out at 6:30pm to walk over towards Youville where the restaraunt and hotel district is. We walked a bit, sat at park benches, chairs, stone walls, absorbing the night life, and did a bunch of people watching. So much to see, and it really is a different world here compared to the rest of Canada. Majority of people here speak French, so its like being in Paris France with the building style, narrow streets, street music and lights. We walked back slowly to our parking spot to enjoy a can of Molson Dry and do some journaling.
Spot 1330 is perfectly level, so it made for a very comfortable sleep, and the weather was much cooler at 17c at around 10pm with a slight breeze. We are parked along Rue de Ramparts next to the Quebec General Hospital. Super quiet area for being in a large city, and we just hear a bit of the hum from the air vents in the stone wall.
Saturday August 28, 2021
Slept in today until 8:30am, with a deep quiet sleep. These parking spots against the wall of the Hospital are absolutely great to stay at overnight for free after 9pm. Definitely when we come back to Quebec City, this is where we will stay again and walk the Old City by foot.
We got ready really quick with some coffee and tea, and headed out of the city to Costco near Levis Quebec at 9:30am. We did some shopping admiring all the different foods the local Costco has, including really fresh cheese curds, cheddar and gouda cheese and even Maple Syrup sugar granules. Bought some more Kirkland wipes for our vanlife showers, the Maple Syrup granules, tortilla wraps, mixed nuts, Kirland ice coffee and some fresh cheese curds.
We had breakfast inside the van, then headed out at 12pm. Got some diesel at the Petro-Canada in Beaumont to fill the tank for a total of $77. We continued on, drinking an ice-coffee to stay awake for the long drive. We continued almost non-stop all the way to the New Brunswick provicial border, took some photos of us and the sign and the Sprinter van, then continued on all the way to Edmunston NB. We stopped at the Canadian Tire to get their wifi which was slow, and tried looking for DEF - and as usual they were sold out. We headed on towards the Dairy Queen to grab their wifi unsuccessfully.
Further up the road we came across a McDonalds in the Centre d'Achat Brunswick Shopping Mall. Faced the McDonalds in the middle of the large parking lot and had an excellent and very fast connection from 200m away. Uploaded and downloaded image and video files, had dinner, relaxed. A decent spot to chill. The time moved forward by one hour when we crossed into New Brunswick, so we stopped here around 6pm. Around 10pm we drove out and found a flat gravel strip next to the Best Western Hotel. We booked the Newfoundland Ferry from North Syndey Ferry Terminal to Port aux Basques. Total fee for the Sprinter van and the two of us was $260, reserved for Tuesday August 31, 2021 at 12:30pm. We have nearly a 1,000km still to cover before then, so we had better make sure we travel a lot tomorrow. We went to bed. It was a very deep and quiet sleep.
Sunday August 29, 2021
In the morning we moved from our parking spot near by the Best Western Hotel in Edmundston over to the McDonalds across the highway, ate breakfast while connected to their free wifi. We continued on to the Shell Truck Stop station just past the Grey Rock Casino, found a dump station and dumped out our toilet and garbage. Unfortunately no potable water available. We stopped by the Irving Oil a at Exit 297 down the highway, filled up with diesel for $80 and then headed to the Home Depot in Fredericton to buy a bottle of DEF, windshield washer fluid bottles, some Febreeze-like disinfectant and stink-reducer and a Home Depot spray bottle. We put the Thetford blue stuff in the spray bottle and use that to spray the toilet bowl once in a while to keep it smelling fresh and clean. A tip we can share is put some of the blue-stuff in the water tank used for flushing - it really helps reduce any smells!
To bypass the toll charge along the Trans-Canada we headed along Highway 4 at Exit 7, and drove through some small communities that seemed really pleasant like the Wentworth area and Folly Lake. Once we rejoined the main highway we saw a Covid checkpoint - our very first one across Canada immediately as we entered Nova Scotia - we could not visit the big Welcome to Nova Scotia sign since we had to be in the left lane for Non-Atlantic Bubble visitors. We waited a few minutes in traffic until we were greeted by the Covid checking staff. We were pulled over to fill in the Nova Scotia traveller's Covid declaration form online for both of us, and we showed our vaccination cards.
That whole process took about 20 minutes.
We just kept driving until it got dark, and drove into Truro, found a parking lot next to the Staples and Boston Pizza, and had a late dinner. We rested for a bit before heading out to find a spot in the dark. We drove around for a while before settling on a gravel parking lot between a Tim Hortons and the Belly Up BBQ and Grill restaraunt. We grabbed the Tim Horton's wifi, while fast was unstable and we would drop the connection quiet often.
We drove a lot today, about 630km for 6.5 hours. Went to bed around 11pm.
Monday August 30, 2021
Woke up late around 8:30am. Late probably because we just landed in a new time zone. We had breakfast, wrote up our journal, and then headed out around 9:45am towards Cape Bretton Island. Before we got onto the freeway, we stopped at the Shell station in Truro and used their water faucet to fill our tanks with water. Since we don't have a long hose, we used our bucket method - filled up ou red bucket with water, brought it over to the back of the van, used the pump to pull the water from the bucket into the kegs. I think we have to buy a hose one day to make it a bit easier. The whole process took about 15 minutes since 4 of the kegs needed to be filled up using several bucket loads of water.
We headed onto the highway and took the route towards Sydney so that we can explore that way. We stopped by the World's Largest Fiddle over by the Cruise Ship Port, and sat in one of the large red chairs. Walked around the area for a bit and then drove around, and then over to North Sydney.
We stocked up on groceries from the Sobeys in North Sydney, headed over to the McDonalds and grabbed their free wifi, but cut out a lot unfortunately but managed to upload most of our recent photos. Went over to the Irving Oil gas station to fill up with $42 worth of diesel - the price is only $1.25/l here. Then we headed back over to the Indian Beach parking lot where we saw several other Sprinter vans and other vans parked for the night.
Found a good level spot facing the port, and then went to bed around 10pm.
Tuesday August 31, 2021
Woke up around 7:30am, got ready, and left around 9:15am for the short 3 minute drive over to the ferry terminal. The kind lady at the booth asked for our reference number and one piece of ID, and we received our two boarding tickets and headed to lane number 11. Our departure today is at 12:30pm on Marine Atlatic Highlander vessel. It is 203m long and has an incredible 2.5km of laneways inside the ship. You really need to get there well before the check-in time to get your lane, and get sorted out if its your first time here.
When we arrived we saw a buzz of activity from the disembarking of the other ship at the dock - the Marine Atlantic "Atlantic Vision" which is the ship that travelled during the night from newfoundland to North Sydney. Our vessel was being loaded with trailers by the port vehicles.
Once on board, we headed up to deck 9, where the seats were super comfortable, almost like a Pricess Cruise Ship. We went up to deck 10 which is the sun deck once we departed, and watched as we left North Sydney and saw the coastline disappear. Went back to our seats as there was nothing else to see but the ocean for the remainder of the trip.
We arrived at 7pm, got back to our Sprinter van, and then once off the ship we waited in lane 18 on the Newfoundland side for the Covid traveller and identificaton check. Once we passed that, we went immediately into the Port aux Basques town and drove around in amazement at the different rock structure here, we parked at the top of the hill looking down at the stage by the harbour and watched a fiddle band and singer. Only one person was dancing, and others were just watching from their cars.
Wednesday September 1, 2021
Work up at 7:30am, it was quiet during the night from around midnight to about 5am. We heard fog horns from the ship that left at 6am, and the buzz of traffic that passed us. Drove through the Portaux Basques area in amazement of all the colourful houses, passed through some newer subdivisions that had really beautiful homes, and the prices are all under $300k which would be impossible to get in BC.
We drove around all the way through various coves and villages, went into one of the backroads off from the highway over by Little Paradise Park, through the gravel roads, and then returned onto the highway again. Its a cross between Hawaii and Vancouver Island. The views are spectacular!
We found Barachois Provincial Park, went in and the guys in the permit booth let us drive in to check it our for 30 minutes without charge. We dumped our toilet in the sanistation that they had there, but did not fill up with water since there is a boil advisory in the region.
Kept driving up the TransCanada up to Route 480 where we found a very private spot. We took a shower inside the van - Home Depot storage bin, dollar store shower curtains, and used the water from one of the kegs and heated up a few pots worth and had a warm shower for both of us. We need to refine this method a bit, but otherwise this was quite workable. Having a shower on board is very handy, especially when no shower facilities are close by.
Afterwards we headed towards Corner Brook - the views were simply amazing! Very hilly, mountainous, and a large active paper mill spewing white exhaust high into the sky. Got some local Newfoundland beer from the NLC (Newfoundland Liquor Control), and the prices are quite high compared to back home for a regular size beer. Even diesel prices in the area are $1.50/l. The lady in the liquor store recommended us to visit Bottle Cove. We headed that way along Route 450 in the late afternoon, and whent through various coves and villages, passing through places like Halfway Point, Humber Arm South, John's Beach, Voy's Beach, and stopped for photos at the extremely scenic fishing village Frenchman's Cove overlooking the Bay of Islands. Stunning scenery, and looking at the home prices in Corner Brook and beyond, a simple home can be had for $150k, and much larger mansions for $600k with many acres. Winters can be cold with lots of snow though.
As it was getting dark, we found a pull-out just before Frenchman's Cove with a view of the water. There were a couple of garbage and recycle bins on the gravel pullout. Had dinner and went to bed at 9pm and had a nice deep sleep. Very quiet overnight.
Thursday September 2, 2021
Work up at 7am, had breafast and on the road by 8:30am. In about 30 minutes of driving we arrived at Bottle Cove and a bit north to Small Craft Harbours Little Cove. Stunning scenery, and can only be described with photos. Fishing boats, lobster traps, a cove with water from the Gulf of St. Lawrence. Headed over to the Bottle Cove Boardwalk, walked along the trail, up the steps onto the top of the cliffs overlooking the Gulf. Beautiful! Clouds were rolling in, and as the day progressed, the rain clouds came. During our walk it was dry but when we finished it started to rain. It's from the Hurricane Ida's storm system reaching up this far into Canada. We spent a good 2.5 hours in the area hiking, and enjoying the views of the cove. It's where Captain James Cook explored centuries ago.
We headed back into Corner Brook, went to the Sobey's, bought some cod tongue and fresh cooked cold lobster and a few other things. Drove out to the Railway Museum's parking lot, cooked up the bacon we had purchased in North Battleford Saskatchewan, and used the bacon fat to fry up the cod tongues to a brown crispy texture. We ate all that together with the lobster. Total of $25 worth of food for a late afternoon lunch. Yummy! Cleaned up, took some photos of the locomotive and rail cars at the museum, then headed towards the City of Deer Lake.
We stopped to top up on diesel paying $1.50/l and paying $60.96 for a 1/3 of a tank. We continued on to Deer Lake, stopped at the Shoppers Drug Mart in town to connect to their free wifi using the Nanostation. Good speeds, better than the A&W down the road which we tried at first.
Backed up our photos as much as we could, but they blocked NetFlix and my Synology connection, so it was only a partial success.
We found a street down from the Bank of Montreal, barely connecting to their wifi from so far away. We parked on Main Street across from the Coleman's grocery store on a level part of the road in front of the fire hydrant. It was pouring rain extremely heavily all night long.
Friday September 3, 2021
A day of driving in the rain, mostly heavy rain from the Trpical Storm Ida. We got up at 7am, had breakfast, and noticed a lot of water condensation was dripping from the ceiling. It had dripped on the steering wheel controls, and as we drove the horn had a mind of it's own - it started honking randomly and the way we could stop it was to press the horn. The left buttons made the horn honk as well. That was really fun. Especially as we drove in torrential rains, we were honking at others - feeling quite embarrassed. We had the air-conditioner on high for a couple hours, and that helped to dry things out. After a while everything behaved like normal.
It was really an uneventful day, stopped at Badger for a bio-break, stopped at Grand Falls-Windsor at the North Atlantic fuel station where they have a sani-dump and dumped our half-full toilet, filled up with fresh tap water after asking permission to use their faucet outside, stopping in Gander at the Thomas Howe Demonstration Forest for an hour rest, travelling through Terra Nova National Park - the most easternly National Park in Canada, stopping for fuel once in Port Blandford,
Saturday September 4, 2021
Woke up around 8am, had a quick breakfast after a really good deep sleep here on Water Street in front of the Port Authority Building. We called up Franklin Laundry, headed there with nearly a month worth of clothing and bed linens, and had it all washed, dried, folded and bagged. Total price with tip was $35. While we waited we headed downtown to see the Terry Fox Mile Zero memorial, walked over to the pedestrian-friendly zone on Water Street and enjoyed window shopping and looking at all the many old buildings and shops.
Water Street in St. John's is the oldest street in North America. Pretty neat to be here and experience a part of Canadian history. Before going to the van we had some poutine at Smokey's Poutinery on Water Street, which was quite tasty and had nice Quebec squeaky cheese curds.
We headed out to Cape Spear, the Easternmoost Point of North America and Mile 0 of the Trans-Canada Hiking Trail that people can walk all the way over to Cape Scott on the North Western Vancouver Island on the west coast. We'll drive the entire length of Canada, but we're not the kind that will hike the entire way.
Here we spent a good 4 hours hiking over to the Lighthouse, over to the cliffs, and generally taking in the sights. Simply breathtaking! We saw kayakers, tour boats, a Canadian Coast Guard boat heading out to sea. We explored the tunnels of the the fortress site, walked up to the lighthouse that was built in 1836. Sunshine kept us warm, and it was simply an awesome feeling being out here the entire time.
After we headed out towards Petty Harbour and Maddox Cove and took in the sights there - a working fishing village, multi-coloured homes up on the cliffs, birds diving for fish. We didn't stop to go to any restaraunt as the majority of our meals are inside the van. We drove through and enjoyed the scenery! We headed over to the NLC and bought a 6-pack of Quidi Vidi Iceberg bottles of beer for $21. Beer and alcohol are definitely not cheap here, and the 15% Harmonized Sales Tax (HST) is added to just about everything we buy here, so it makes visiting a bit expensive.
We drove around, stopping at various places searching for a decent wifi connection at McDonalds, Burger King, CIBC, Tim Hortons, etc and we had no luck. In just about every other city and province we have visited, we had no problems connecting to wifi. It was getting late, so we used iOverlander to find a spot - supposely the Walmart in Mount Pearl would be a good rest stop. But that Walmart closed back in March 2021 so it lay abandoned. We parked backing up against the main road behind the bus stop. Nobody bothered us the entire night, but it was definitely noisey with lots of traffic. Not a good spot if you want peace and quiet. Many of the surrounding streets are not flat, so we couldn't find anything else, so this was the spot we picked and went to bed for the night.
Sometimes vanlife is not as glamorous as it may seem ;-)
Sunday September 5, 2021
Woke up at 7:30am, had breakfast, headed out to Signal Hill and arrived at 9am. Since the park opens around 10am we arrived early to get a good parking spot at the top. A lot of history in this area, and we took in the sights, the sounds of the birds and the wind, and hiked up Ladies Point where we could have a 360 degree view of the Atlantic Ocean, St. John's and the surrounding areas. All the different coloured houses was neat to see, similar to some parts of our experience in Mexico City and around San Francisco.
As we left we stopped breifly at the Geo Centre where they have an outdoor rock exhibit showing all the different types of rocks found in Newfoundland and Labrador. We didn't go inside the exhibition building as we had already spent over 3 hours at Signal Hill. We need a few more months to take in all that St. John's has to offer.
We headed over to Sobey's near Fort Townshend and got some groceries including an absolutely fresh rotissery chicken. Back in the van we parked in the back lot for some privacy as we made some BBQ chicken wraps for lunch. Yummy!
Gigi needed some hair products so we headed over to Sally Beauty near the Home Depot. We shopped at Dollarama and bought some thicker shower curtains for our makeshift in-the-Sprinter-van shower. We simply use existing magnets to secure the shower curtain to the ceiling, and let the curtain hang into an empty storage box. We use the bidet sprayer to shower ourselves with less than 5 gallons of water. It works. Just need to have a better way to warm up the water in the colder weather.
At Home Depot we bought a product from ZEP that removes calcium lime and rust (CLR). At home in Vancouver we have soft water, but in many places across Canada we have filled up with hard water which has lead to our stainless steel pans covered in calcium and hard water deposits. About 100mL of the solution is poured into the stainless steel pot, wiped up using gloves and a paper towel, rinsed off, and the pots are absolutely shiny again!
We headed over to the Costco area by the Trans-Canada - the whole area looks brand new, and tried to grab the Starbucks wifi. In most of Newfoundland we've had bad luck getting a good stable connection. In most other parts of Canada we usually had no problem, but we've tried multiple businesses wifi and sometimes we can't connect, other times we connect without Internet, other times they want a password on the unsecured connection. If we do connect it is usually quite slow.
The weather today was much cooler - a high of 16c with wind, and in the evening it was between 8c and 12c with a lot of wind and light rain.
We parked in the back lot behind the set of businesses behind the Starbucks near the Costco in St. John's. We were the only vehicle there.
Two years ago today we were in Bangkok Thailand in very hot and muggy heat eating food at the Terminal 21 Mall. Today we explored the eastern part of Canada!
Monday September 6, 2021
After breakfast we decided to explore and experience the scenic tour known as the Irish Loop. We headed south onto Route 10-S, filled our diesel tank at Bay Bulls, and visited many of the little villages along the way.
Our favourite spot where we spent the most time was Ferryland - we watched as whales played in Sandy Cove, watches the birds dive for fish, saw the lighthouse, and generally watched nature at play.
The total trip was 310km, and about 5 hours of travel time.
We headed over to the Marriot Fairfield in St. John's, checked in, took our long-awaited shower and relaxed for a while. Treated ourselves to a Domino's pizza nearby then headed back to the hotel and went to sleep.
Tuesday September 7, 2021
Woke up in the Marriott Hotel after a decent sleep, went downstairs for the free breakfast and brought our food upstairs to minimize the risk of contracting covid. No way we are sitting with others maskless eating our food.
Two business doors down is the St. John's Mercedes dealership and we asked if they could inspect our brakes - the next available would be sometime next week, and seeing that we're on a mission to slowly get off the rock, we figured the next available dealership is in Halifax. No brake warning light on yet, so we're good for a while. We also visited the CAA nearby and asked if we could purchase roadside assitance, since our Mercedes extended warranty had just expired once we passed 160,000km. They told us we'd have to buy from our home office but can do it over the phone.
Lots of driving today - about 650km and 7.5 hours to get to Deer Lake and spend the night there before going to the Gros Morne. A lot of heavy rain and very strong wind during our entire drive today. For the first time I noticed the Mercedes Cross-Wind symbol on the instrument panel come up. We saw several Sprinter vans travelling along the TCH and many of them were also wavering on the road due to the high winds.
We stopped in Whitbourne at the Irving fuel station and filled up the tank and paid $51.86 at $1.54/l
We stopped at Gander just to drive around and get a feel for this city. It's one of the few cities in North America that accepted planes to land here during 9/11 and the locals opened their homes to world travellers while the entire world airspace was shut down. The International Airport was also a refueling spot for aircraft flying into North America from overseas. A long time ago when I was a kid we stopped here on KLM when flying over from Germany to Toronto. Never got out of the airplane, and this time I had the opportunity to drive through the area.
We arrived in Deer Lake around 7:45pm just as it was getting dark. Filled up with diesel again, paying $85.56 for fuel at $1.50/l
Bought a couple of beer from the local NLC next to the Colemans, drove over to the Shoppers Drug Mart and hooked into their wifi to download. Last week when we were here, we could not download any Netflix as Loblaw's, the owner of Shoppers, runs the network and they block many websites and activities. The other day we purchased the Mullvad VPN and installed it in our phones and tablet. Accessed with wifi, and without any issue we could watch and download NetFlix on the Loblaw's-owned wifi. Though we tried to do the same with the Bank of Montreal wifi, and their network is hardened to the point where we can't connect the VPN. So it really depends on the wifi owner, how loose or locked down their network is.
We headed over after a while to Main Street and parked in the same spot as we did last week, and it was reasonably quiet overnight except for a bit of traffic. No rain overnight but a lot of wind.
Wednesday September 8, 2021
Moved over from Main Street to the Shoppers Drug parking lot at 8:00am, topped up the DEF and windshield washer fluid, and all ready for our trip up to Gros Morne National Park today. Grabbed the free wifi from Shoppers, and downloaded some Netflix while we had breakfast.
We saw a lot today, stopping in at Earles for their world famous moose burger located in Rocky Harbour. We spoke with the cook, the owner's daughter, and they actually have a special moose hunting licence that allows them to hunt and kill moose, and then sell the meat to local businesses and at their restaraunt. We ordered one moose burger with all the toppings and fries and coleslaw, all for $20 including taxes and tip. A bit expensive but we were here for the experience. We sat ourside in the sunshine overlooking multi-coloured cottages and the Gulf of St Lawrence. The moose meat didn't taste gamey at all, but definitely different than beef or turkey burger. Very lean, and tasted good, and the fries were nicely browned and the coleslaw was tiny but tasted very good. We split it equally between us, but the portion size would be enough for one person.
Route 403 also known as the Viking Trail has stunning scenery. We stopped in many places along the coast. We stopped at Lobster Cove Head Lighhouse where they let us into the lightkeepers home that had information about the lighthouse and the way of like back in the 1500-1800's. The weather was very sunny and warm, so we captured some beautiful photos of the lighthouse and area.
One of our favourite spots was on the top of a hill just north of Sally's Cove overlooking the Gulf of St. Lawrence. There sat two of Canada's iconic red adrionic chairs facing the water. We drove the Sprinter up the hill to the chairs, and sat there basking in the sunshine, the cool wind, and watching the waves listening to them crash onto the shore.
We continued on a bit further north and stopped to see the SS Ethie shipwreck. We walked down the winding wooden stairs to the shore and saw big pieces of twisted rusty metal - the bare remains of the ship that ran aground on December 11, 1919 in one of the worst storms ever. Luckily everybody survived, even the baby that was being transported in a mail bag.
We stopped in Cow Head for a while for Gigi to take a nap while I enjoyed the sunshine and a bite to eat in the van.
Heading north to stop and enjoy the natural beauty of Arches Provincial Park where over millions of years the water had eroded some holes in a hill and made some natural arches. Similar to Arches National Park in Utah, but this is the Canadian version!
After we continued north, many parts were inland so not quite as scenic. We did see many woodpiles along the side of the road all set for winter. Not sure if they are there for sale or for the nearby communities. We also saw many lobster traps stored on the side of the road, since the lobster season is now over in this area.
We arrived at the ferry terminal in St. Barbe at Black Duck Cove around 6:30pm. Online we booked a reservation for tomorrow September 9, 2021 and the earliest available spot on the ferry to Blanc Sablon was for the 6pm sailing. At this ferry terminal, space is based on height and length. If the available space shows 20 for instance, it does not mean 20 vehicles, it means 20 feet remaining. For our Sprinter van, we are at 23 feet. We found enough length and height available for the 6pm sailing. It's approximately 1 hour 45 minutes to arrive in Blanc Sablon so we will arrive at night in the dark, as sundown is at 7:47pm tomorrow.
We topped up with diesel at the Ultramar for $46 at $1.53/l. So our cost to drive from Deer Lake to St. Barbe was $46 over 300km. The average cost is about 15 cents per kilometer. We asked the store clerk where we could park, and they said over by the arena behind the gas station. So we found a level spot to park in the muddy gravel parking lot and went to bed around 9:30pm, after eating a light dinner and enjoying a beer.
Thursday September 9, 2021
It was about 7c overnight, but not the bone-chilling cold that we normally experience in Vancouver at this temperature. For us here in this section of Newfoundland, the cold wind doesn't feel as cold as back home. Unusual for us to experience this.
Woke up around 8:30am, the parking lot overnight filled with tractor trailers at odd-hours during the night, running their engines. So it wasn't completely quiet, but we still had a very good sleep.
We need to wait for our 6pm ferry to Labrador. In fact we land at Blanc Sablon in Quebec, and then a very short drive east brings us into Labrador.
This morning we booked the return trip for this coming Saturday. Lots of space on the ferry back to St. Barbe. Another popular place to visit just closed for the season the other day, which is Battle Harbour which is a long drive along the coast in Labrador. There is much more to exolore in Labrador like Goose Bay and Labrador City, but we won't do it on this trip as we still have a lot of the Atlantic provinces still to explore like PEI, Cape Bretton and Nova Scotia - all before winter sets in across the country.
We received appoval to enter PEI based on our vaccination status and time spent here on the east coast.
Today we just relax in the warm sunshine while we wait for our ferry - basically a break from driving for a bit.
We filled up with water last Friday before we entered St. John's, and we still have water left in the two kegs that we've connected to since then. We've been stingy with our water usage, and we find that between the two of us we use less than 6 litres per day of water for washing and drinking water. We still have 4 extra kegs filled to the top as reserve. We found it's not too difficult to find fresh drinking water, especially at gas stations, provincial and national parkks.
At just before noon we figured we'd move over to the ferry terminal to get our tickets a bit early. We moved there to the parking lot, found that we ran out of water from the two kegs, then switched the lines over to the other two kegs. I went in the terminal, checked-in, and found that they had enough space to get on the 1pm ferry! We had two minutes to get in Lane 4, so I rushed back, quickly packed away everything loose, and headed over. We made it! We just had to wait an hour for the ferry named Qajaq to arrive, unload cars, trucks, RV's, passengers, then it was our turn to drive on.
The ferry left the terminal at 1:15pm, and we went to the top deck to enjoy the view. It was sunny and warm, and at the stern there was much less wind than at the bow. We sat outside for a while soaking in the sunshine, taking photos and video, and then headed inside for the 100 minute trip to Blanc Sablon in Quebec. The time on our cell phones switched from Atlantic Time to Quebec time mid way, so the time was an hour and a half earlier!
As we neared the terminus, we saw an active fishing boat hauling in fish. All the seniors from the bus tour on board (along with us of course!) were gawking at the unusual sight. City people eh!
The announcement came telling us we could enter our vehicles. We disembarked moments later, and within a few minutes we were at the Labrador border, greeted with the Covid inspectors. Since we are from BC we were pulled over, asked for our Identifcation, NL Covid ID numbers again, and then allowed onwards into Labrador. A relatively quick process taking less than 5 minutes.
The landscape was amazing, from trees to fields strewn with boulders, and different kinds of rock formations. We passed through very hilly territory going from sea-level all the way up to 200m and back down again. We passed through towns L'Anse-au-Clair, and stopped at the lookout point before Job's Room.
We stopped, took photos of the distant lighthouse, had lunch, and watched as some people came up from the hill with a bunch of Partridge Berries (a unique Labrador berry used for jams).
We continued on past Forteau, English Point, L'Anse-au-Loop, L'Anse-au-Diable, West Saint Modeste, Pinware, East Saint Modeste, and then finally coming into the UNESCO World Heritage Site of Red Bay. The red sand and rocks gives it's namesake.
The weather was beautiful and sunny as we drove in, arriving around 5pm so we still had time left to take lots of photos, drive around the village, look around and speak to the guys inside the Interpretation Centre just as they closed. They open again at 9am tomorrow morning.
We explored outside a bit, sitting in Park's Canada famous red chairs overlooking the bay. We saw the San Juan ship wrek remains in the harbour, Saddle Island, and simple were in awe at the stunny beauty of Red Bay.
We had cell signal, and we later found out they only had it installed three years ago. Before that they were off-grid telecommunications wise.
We found a pullout very close by which was nice and level, and we made it our home for the evening. Had dinner, rested a while, and then went to bed.
Friday September 10, 2021
It was an incredibly quiet night parked here in Red Bay. It had rained a bit, and a lot of fog set in during the night. We had breakfast and drove around for a while, checking out the local gas station and dumping our garbage, and also drove a few kilometers up in the direction of Mary's Harbour just to see a bit of the changing landscape.
We came back down to the Interpretation Centre at 10am, paid the fee of $23.80 for the two of us. We spent about 3 hours in the musuem, talking to the Parks Canada staff about their life in Red Bay, the beauty of being so remote yet having access to just about anything they need. Homes can be built here for $100-200k, property taxes less than $1000/yr, how they heat with oil or electricity or even firewood, the wonderful smell of fresh ocean air mixed in with hints of salt, fish, trees, etc - hard to describe but the smell of the air here is wonderful.
They also let us tour the new Interpretation Centre which housed an actual ship-wrecked boat which took 13 years to reconstruct from parts found at the bottom of Red Bay. Not much else to see, but the Parks Canada lady talked about the ship wrecks, brought us outside to show us how to pick the Partridge Berries found on the ground, and we saw the UNESCO stones out back.
After we finished we took a brief rest before heading out to L'Anse-au-Loop. The rain and fog was heavy at times. We arrived at Earle's Grocery Store, picled up some more beer and groceries. Groceries here were actually much cheaper than we found at Sobey's in Newfoundland, and the beer seemed cheaper too - an 8 pack of Molson Canadian cans for just under $19.
We headed into the L'Anse-au-Loop community, drove around and found a gravel parking lot next to the Port Authority and settled in looking at the boats docked there. The rain had subsided, and the fog had lifted enough for some photos. The fog rolled in again, it got dark, and the rains returned. Perfect for an early 9pm bedtime.
Saturday September 11, 2021
Woke up very early this morning around 4:30am since we both fell asleep last night around 9pm in a heavy rain. Overnight we could hear the waves crashing on the rocks next to the van as the wind had picked up. Lucky we escaped St. John's last Tuesday, since overnight they were hit with Hurricane Larry, a Category 1 storm with winds of 140kph and gusts of 182kph on the Avalon Peninsula.
We had breakfast, checked on our ferry again which is now cancelled due to the high winds at St. Barbe with southwest winds 35 to 45 knots increasing 45 to 55 knots later in the afternoon. So our 3:30pm sailing has been cancelled for today, and we'll see if we get on the next ferry tomorrow or on Monday.
We then headed over to the lighthouse at L'Anse Armour. The wind was incredibly strong, making it very difficult to open and close the van doors. At the lighthouse we met with 3 of the staff there, paid the $12 entrance fee for the two of us, and one of the staff took us on a tour of the caretaker building - and surprisingly - a walk all the way up 133 steps to the top of the lighthouse! What an amazing experience! The lighhouse is the tallest in all of Newfoundland and Labrador, and is Provincially owned and is not operated by Transport Canada. The lighthouse was built with 6 feet thick walls at the bottom with limestone, and 4 feet thick walls at the top. It was very sturdy in the high winds we experienced today!
The glass lens up top are still original dating back to 1862, all imported from Paris France. The view was spectacular at the very top of the tower. Though we've been to many lighhouses in North America, this is the first one we were every allowed to be in at the very top.
The whole area is incredible - with lots of history - and inside the lighthouse they have so much information and artifacts it was overwhelming - so much to see.
We were very lucky today, since the weather was so windy no other visitors had come by during our time there, and it seemed like a personalized tour of the lighthouse.
We continued on, stopping again at the Newfoundland and Labrador border sign to take photos. We headed into Quebec, with a time change of 1.5 hours earlier. We found a general hardware store in Blanc Sablon which was recently taken over on July 12 2021 by new owners. They store was very well stocked with everything you would ever need for your home. We chatted with the owner and his son for quite a while. They actually import many things all the way from Burnaby BC. The cost of transport is $100 per pallet all the way from Burnaby to Corner Brook, then another $100 for the relatively short ferry ride over to Blanc Sablon. We found a nice little rug and purchased that for $16 and put it in our van as a good memory and as a small way to support their business venture.
We went over next door to the grocery store which was an IGA and had Presidents Choice products and was surprisingly well stocked. Bought a 12 pack of Molson Canadian for $18 and a litre of milk on sale for $1.
We went back to the General Hardware store and spoke to the wife of the owner, asking where we could find water. She told us we could go a couple towns west to Brador where there is a pumphouse. A short 15 minute drive through the Quebec towns we found it quite easily. Filling up the kegs was a huge challenge today due to the extreme high winds. The bucket flew away, my hat came off and blew away, the water spraying into the bucket was going sideways, the back doors were very difficult to open, and standing outside while the kegs filled up was difficult as I was being blown around quite a bit. After about 20 minutes we filled 2 completely empty kegs, 2 mostly empty kegs, and the other two were still full. Though we have a lot of water on board, we try to fill up often or where there is an opportunity. We don't want to get stuck without any water in the van. Actually, all across our travels so far across Canada, it's been quite easy to ask around for water or look online using iOverlander or OSMAnd maps for water.
After we filled up on the Quebec side with the highest price we paid for diesel so far - $1.72/l - we stopped for a while at a trailhead, parked for a while having a snack, and rested. The van was being rocked by the wind a lot. We watched outside as the huge waves crashed onto the shore, with the side of the van facing the water covered in salt water spray.
We headed out after a while, exploring the area by car. We parked on the Desjardins Bank parking lot facing the water and watched as the sun set into the evening. Stunning sunset this evening!
We drove away, looking for a spot to settle down in, and decided to park at the General Hardware store parking lot on the gravel off the paved area on a nice level spot facing west. It was totally quiet at night and made for a very good sleep.
Sunday September 12, 2021
Woke up at 6am Quebec time since, and headed right away over to the ferry terminal in Blanc Sablon. Newfoundland time is 7:30am. There was a line of cars and trucks already parked on the right lane pointing down the hill. Walked over at 6:45am (8;15am NL time) and there was already a linup of about 15 people in front. Waited until 7:15am (8:45am NL time) in line and the staff opened up the building quite late. Gigi came over with a battery for my phone since it was nearly dead. We were told to come back at 9:30am NL time when they would call out the names from yesterday for the cancelled sailings. So we walked back to the van, got things ready and then walked over at 9:20am. At exactly 9:30am NL time they began calling the names for the 10:30am cancelled sailing, then the 3:30pm cancelled sailing. Many people did not show up for the rescheduled sailing - maybe due to confusion over the time difference, or they scheduled for another day. Our name was called, we went to the ticket purchase area where about 10 people were ahead of us already.
When it was our turn, we paid the $45 after showing ID (total of $55 including the $10 reservation deposit). We were told to go imediately to the loading lanes outside. No lane number was given unlike in St. Barbe. We headed back to the van, drove over, and was directed over to one of the many lanes. We expected to be here until the 3:30pm sailing so Gigi got ready making breakfast. To our surprise, once the Qajak (pronounced Kayak) finished loading the bottom level, the top level started loading and we moved a few cars, then onto the ferry! We were near the very front of the ship. We packed up our stuff, masked up, then headed up to the top passenger level. Once we set sail at 10:45am NL time, it was a beautiful sunny and warm ride - until the winds picked up and the waves got a bit bigger - the ship listed from side to side, making us feel dizzy. We got a ham and cheese sandwich and a coffee from the cafeteria for $9, wobbled back to our tabled seats up front, ate the sandwich but then closed our eyes for most of the trip back until the water became much calmer. It was otherwise an uneventful 100 minute ride back to St. Barbe from Blanc Sablon, arriving at 12:35pm.
We drove south along the Viking Trail highway, stopping in at Port Saunders and Port aux Choix. Stunning scenery and very clean neighbourhoods greeted us. We stopped at the French Bread oven program right at 2pm, right next to the Barbace Cove Trail. Even though they were supposed to be open, everything was closed unfortunately. There was an outdoor bread oven - one of seven scattered around Newfoundland. For centuries, French fishermen arrived on the shores of the island of Newfoundland to fish and dry cod. Their installations were very basic since the fishing treaty dicated the French were not allowed to build permanent dwellings on the shore. In order to satisy their needs, the fishermen built open-air bread ovens similar to the communal bread ovens of their native France.
We also saw a Choloupe boat used by the Basques for whale hunting and cod fishing. They have a few steps into the boat allowing visitors to step back in time and imagine what it was like to be in such a boat.
We continued our journey over to the Historic Centre over to Point Riche Lighthouse and enjoyed the warm sunshine, fresh breeze, the sight of the lighthouse, the Gulf, and had a late lunch in the gravel parking lot with a view of the lighthouse.
We drove back along the route we came in, continued along the Viking Trail and stopped around 5pm at Parson's Pond along a gravel parking lot next to the Gulf. Parked facing south on a perfectly level spot, we napped for a while, woke up at 7pm as it was slowly getting dark, then had dinner. Rather than continue on towards Deer Lake, we decided to spend the night here alone parked next to the Gulf. Very quiet here, with some sound of the waves. The wind had died down, and we had some light rain as the dark clouds formed in the sky.
Monday September 13, 2021
Very deep sleep overnight, but woke up a couple times to the very heavy rains and powerful 55kph winds that were carrying the salt-water spray onto the van. Other than that it was a dead quiet night in terms of no sirens, traffic, road noise - stuff we've been accustomed to back home.
Woke up at 8:15am, got ready and continued our journey south along the Viking Trail into Gros Morne National Park very shortly after driving. It was cloudy but no rain.
The winds were very heavy and threw the Sprinter back and forth in the lane. Some parts were worse than others. Trees were leaning toward the east from their entire life under the heavy westerly winds.
We travelled back into Rocky Point, driving through the very scenic community once again making some more coffee and tea at the turn-around near the cemetery.
We decided to take the 80km route into Trout River and Bonne Bay and pass the Tablelands along the very scenic Highway 431. The route seemed similar in terms of scenery like Highway 93 Icefields Parkway between Banff and Jasper in Alberta Canada. The Tablelands are brown in colour, lots of small boulders leading up the mountain on the left as we drove towards Trout River, and on the right it was lush greenery up the hills. An amazing scenic drive all the way down, and we stopped for several photo opportunities.
We drove into Trout River, passed through the small community where the river was nearly at the same level as the road we passed along. Wonder if they get much flooding there or not. We stopped a couple times and took photos over by the wooden bridge by the river. We turned around and drove into the village where there is an all-grades school, several convenience stores, and a view of the Gulf. We are still blown away that people choose to live in these tiny villages far from major cities. They close the main road into the village when the roads are impassible.
We continued on back through the Tablelands, got some Sprinter photos, and then stopped by the Tablelands Trail Head. It was incredbility windy and with the wind it brought cold air. With the ankle that is still hurting, we decided not to attempt the 4km, 1 hour trail loop up the Tablelands. Though it would have been neat to experience, sometimes we can't do it all, so it's something to put on our bucket list again.
We continued on to Bonne Bay and Woody Point on the left, and looked around the village. There we saw a home for sale with 1/2 acre, 6 rooms. 2 bathrooms for $350k, with a view of the ocean where whales come and play. We stopped in front of the Woody Point Library, had some lunch, connected to their free wifi which was incredibly slow but worked to catch up on messages. We saw one of the ferrys loaded with people, and the Maritime Bus lines that had arrived at the ferry terminal to pick them up. One of the Maritime Bus drivers we met at Signal Hill in St. John's told us to visit Trout River and Bonne Bay, as that is part of their scenic itinerary as well.
We headed out along Route 431 back to Route 430 and out of the National Park. We stopped at the Esso near Deer Lake with half a tank remaining, and filled up with $67 at $1.52/l and then headed to the Shoppers Drug Mart parking lot to grab some good wifi again to upload photos, update the website and talk to our family back home.
We found a spot in an industrial park on the side of the road, but little did we know there was an active trucking facility at night, and one of the trucks honked as he drove by, so we left at 11pm and went back to the same place we were twice previously here in Deer Lake. It was a very quiet night and a good level spot for sleeping.
Tuesday September 14, 2021
Woke up at 8am, got ready, then headed out on the highway westbound. We phoned the closest provincial park to see if they had showers available, since we had not showered for a week since our stop in the Marriott hotel in St. John's. They told us $10 vehicle fee we'd have to pay and we can both use the showers. We stopped at the Baraquios Provincial Park, and as we entered we told the older gentleman we had not showered for a week, and would like to pay to get in to use the shower facilities. We said go ahead - I'm not going to charge you - that was so nice of him! We drove over to the comfort station building, showered with nice hot water, dumped our toilet, refilled the toilet water tank and were done in under an hour.
We continued on our journey, stopped by at the last Robin's Donut store before the ferry, just to try the donuts. The shop is very similar as Tim Horton's, but as we had arrived around 2pm the donuts were not that fresh obviously. I bought a medium coffee which tasted better than Timmies, and Gigi had a tea with cream which also tasted good - seemed like they steep the team first since there was no tea bag.
We continued on, stopping in at Wreckhouse at the parking lot. This is the spot in all of Newfoundland where the winds from the Atlantic are so strong that trucks have been overturned as they pass through this area. Took some photos, and continued on. We arrived shortly in Port aux Basques, drove over to the Public Library and tried out their wifi connection - it was quite fast and started to download some movies for the ferry trip.
We needed to get some groceries so we headed over to the Coleman's downtown around 6:30pm. It was still sunny out, and the views as we drove were incredible here. It's a very beautiful town here, and housing can be had for between $100-200k. We did some shopping, then drove around the neighbourhood anjoying the views. We parked behind the Coleman's andparked along the water to have dinner before it got dark. So peaceful here, we actually feel at home in this section of Newfoundland.
After dinner we headed out to the library parking lot, settled in, connected to the wifi, and overnight everything had uploaded.
Wednesday September 15, 2021
Woke up at 7:30am after a good sleep here at the Port aux Basques library parking lot. We had active Internet over wifi all night long, so all our photos uploaded to Google Photos and to our home NAS. Overnight it was a chilly 5c outside but we had the heater on a comfortable 16c for sleeping all night long.
We headed over to the Port aux Basques ferry terminal at 9am just after topping up on diesel fuel at the North Atlantic station for $1.51/l for $48. At the ferry terminal we had to pass through a large inspection building and were asked if we carried any potatoes or other veggies. We then proceeded to ticket gate 4 and received our physical tickets. Unfortunately there were no available cabins for this sailing.
We waited in the parking lot until 10:45am and then began boarding. Once we boarded we headed up to level 7, found a seat, and enjoyed the 6 hour ride to North Sydney. We brought food along, had some lunch, and rested the enture way there. We departed at 11:45am and arrived at North Sydney ferry terminal at 5:30pm local time.
There was a covid inspection station setup at the exit, and we had to show proof of our vaccination status - so we pulled out our vaccine cards, showed them to the officer, and immediately headed out to the Indian Beach parking lot where we started our Newfoundland journey more than two weeks ago. We drove over to a nice level spot overlooking the ferries, had dinner, connected to the wifi overnight and went to bed around 10am.
Thursday September 16, 2021
After breakfast we headed out to the Cabot Trail, our first mini-adventure on a very small ferry at Englishtown. This was the shortest ferry ride ever - perhaps no more than 200m of waterway crossing. We drove onto the awaitng boat, and due to covid they were not charging anybody for the ride over.
We drove down the scenic Cabot Trail over to the Clucking Hen bakery and restaraunt, bought some very fresh bisquits, scones and muffins for our journey. We ate some in the van before heading over to the Highlands National Park. There we explored Ingonish Beach and the Keltic Lodge. The lodge had very fast wifi and was unprotected so we tapped into it while we uploaded more of our data. We got ready to do thehike at the Middle Head Hiking Trail, headed over, and enjoyed a 4km return trip to the point. It took us 3.5 hours due to my ankle injury, and since my ankles suck I managed to fall 3 times along the trail. The joys of getting older! We took many photos along the way, it was a very scenic hike. Both of us were very sore since we had not hiked like this for a while. Got back in the van, headed back to the Keltic Lodge parking lot and uploaded the most recent photos. The cheapest price for rooms at the Parks Canada lodge is $400/night, and everything was sold out for this weekend. The most expensive was around $1300/night for the executive suite.
We ran out of water in two of our kegs. The 40 litres of water lasted us 5 days, or about 8 litres of water for the two of us in the van per day. We last filled up on the Quebec side west of Labrador last Saturday.
We drove out of the park, enjoying the views with a warm evening sunshine. We stopped over at Neils Harbour, drove over to the icecream lighthouse and the calmchowder restaraunt which was closed when we arrived at 7pm. We looked out at the atlantic ocean for a while. I switched over to two of the other kegs with fresh water. We found a level spot close to the harbour around 7:30pm, found a far-away wifi that we could attach to which was very slow but usable for web browsing, then fell asleep around 9pm.
It was very quiet during the night, and we woke up around 4am to a cold van since the temperature had dropped to 9c. Turned on the Espar heater and fell asleep until 6:45am.
Friday September 17, 2021
Woke up at 6:45am to a nice cozy warm van, looked outside just as the sun was rising above the atlantic ocean. The got to experience the very first sunrise in all of Canada on the east coast in Neils Harbour!
We travelled a lot today, heading all along the Cabot Trail from the east side to the west, stopping at various beautiful scenic spots like the Aspy Fault. The highway went from sealevel to 450m and back down in many parts, spectacular views! We came into Cheticamp which was a stunning town of about 4000 people, which at one point was a gypsum and gold mining town which didn't work out too well, and then became more of a tourist town. We drove around, found the Co-Op store and bought some groceries. We then headed over to Chiticamp Island where only a few people live and is mainly used by the Nova Scotia Farm Co-op for cow pasture. A long dirt road ended at the point with a lighthouse at the end and stunning views of the Gulf of Saint Lawrence. We drove back slowly, and came to the part where the mainland joins the island, with beach sand between the van and the Gulf. Out the sliding door we faced west, with a warm sun shining inside the van through the open door. At 2pm we stopped and enjoyed the time there.
We waited until the sunset at 7:11pm, and took many stunning photos. Some clouds in the sky far away were lit up with red and orange colours as the sun disappeared behind the horizon. What a beautiful moment to experience. We saw the sun rise over the Atlantic ocean this morning, and the sun set over the Gulf in the evening. Wow. This is vanlife and we are loving it!
After dark we went into Cheticamp, and found a spot facing the harbour for the night. No wifi but we did have LTE. Early to bed at 9pm since the fresh ocean air made us sleepy.
Saturday September 18, 2021
We woke up late around 8:30am in Cheticamp, waking up to a warm partly sunny morning around 23c. After breakfast we headed over to the boardwalk area, dumped our toilet which was nearly full, cleaned up a bit, then headed over to the carwash across the street. Paid $4 in total to rinse off all the red dust and mud from the Sprinter van, especially on the back door and all the wheel wells.
We drove around Cheticamp some more, absolutely beautiful area. The homes in this region all have nicely groomed lawns, and no garbage or junk laying around. Quite the contrast from rural Vancouver Island where in some communities old cars lay abandoned in the yards, the grass is long and messy. Here in this portion of Cape Breton Island its beautiful!
We stopped by many ocean viewpoints along the way, and at one and older couple stopped after we stopped and asked questions about our Sprinter van. At first they thought our van was one of the local golf course private limos. Since we don't have solar or other vanlife accessories hanging off the side of the van, a lot of people don't know it's our tiny home on wheels! We chatted for a while, they were interested in this kind of lifestyle of being self-contained, able to stand up, cook sleep eat shit in a tiny home.
We headed down along the Cabot Trail to the end near Wagmatcook Indian Reserve, and noticed the tire pressure monitor symbol light up. The right rear tire was at 56psi when it was at 70psi. We turned around and went over to the Irving station, and they directed us to another station in Baddeck. We stopped at the Circle K Irving and checked the tire, and had a nail in the tread. Oh oh. We put a toonie into the air machine and filled the tire to 70psi. We looked around and all the auto repair places were closed today. We parked at Morrison's Auto Repair, figured we'd hang out on their lot until Monday at 8am when they opened. I cleaned the engine compartment, topped up the DEF, topped up the washer fluid, removed both air filters and tapped them out as best as I could to remove all the bugs and dirt, and cleaned the housing with paper towel and a bit of water.
A lady by the name of Katrina came by with purple hair and cool tatoos, interested in looking in our van since she's intrigued by tiny homes, we got to talking for quite a while. She's on the board of the Baddeck Farmer's Market and she was very kind, calling her friend for assistance, suggesting we go to the Home Hardware in town and get a tire repair kit. She left for home, and brought back some homemade soap for us and a clove of garlic! She was definitely someone very special and we're very lucky to have met her. When you get stuck somewhere, people come out of nowhere to help without even asking. What an amazing soul! We exchanged phone numbers and kept in contact into the early evening.
I phoned the Baddeck Home Hardware, and confirmed they had a tire plug kit from Slime and a small 12V compressor. We moved the Sprinter over to a safe spot along the road across the street with the nail head facing up on the tire, easily pulled it out with a flat screwdriver. The nail was only 1/2 inch long with a very wide head. I quickly reamed the hole, took the rubber piece, put contact cement all over it after threading it through the needle tool. I pushed the rubber seal through the hole, plugged the hole, and pulled up sharply and the plug stayed in! First time we've had to do this on the Sprinter in nearly 5 years of ownership and 163,000km of travelling around North America! I also bought a small air compressor for $60 and it did its best to get from 33psi to 45psi after getting quite hot. We drove over again to the Circle K Irving where we willed the tire to 70psi and test drove the Sprinter around Baddeck. No problems at all - it worked successfully!
We drove over to the Baddeck Marina, looked over the Bras D'Or Lake, and went over to Baddeck Marine - a private yacht business where they have showers available for $2. Since they were closing until Monday at 8am, we'd have to wait until then for a warm shower. Baby wipes here we come!
We went over to Tom's Pizza and had a combo slice which they warmed up nice and crispy and was very good.
Stopping in front of the Baddeck Library we managed to connect to their very fast wifi to do our photo uploads and other web-related stuff. Many other older couples in the area, since it seems the retired folks roam around when school is in session. An older couple stopped by the library outside on the picnic table, pulled out their iPad and laptop and also used the wifi from the library outside. If you haven't already, get yourself the Ubiquiti setup we have - it's very handy!
We headed over to Morrison's Auto Repair, parked on their lot and then went to bed around 10pm.
Sunday September 19, 2021
Woke up at 3am to the sound of very heavy rain for about an hour, and the temperature dropped to about 15c. We placed a couple towels over the steering wheel in case the condensation from the headliner area decides to drip again.
Got up around 9am after a deep sleep once the rain subsided. Checked up front and the towels were wet, and the steering wheel only a bit damp. Removed the reading light and reached up and felt the inside of the headliner metal and it was full of condensate. Lucky the steering wheel is not soaked else we'd run into the same issues as we did in Newfoundland a few weeks ago. Tonight we'll try and block all airflow into the headliner by taping it off or plugging it with other material.
We headed out after breakfast down the road to shake out the remaining water - it just poured out onto the steering wheel so we got another towel and drove with it over the steering wheel. The tire pressure on the rear passenger side wheel still held its pressure very well overnight - the plug worked great!
We headed into the Alexander Graham Bell National Historic site of Canada. Paid the entrance fee of $7.90 each and learned a ton about him and his family! Most only know him as the inventor of the telephone, but he also did way more than that, all for the benefit of others and humanity as a whole. Reminds me of Elon Musk who is also a modern-day inventor with his goal of benefitting society as a whole with his electric vehicles, Space Exploration, mind to computer interfaces and his tunnel boring ventures.
Mr Bell helped out teaching deaf people to speak and communicate. One of his students became deaf at the age of five, and he later married the girl at the age of 18 years old. He invented box kites, hydrofoils, gramophones, telecommunication over lightwaves, tetrahedral connctors to build bigger kites and eventually invented the first airplane right here in Baddeck.
We spent a good 2 hours inside the museum - very interesting to see all the original artifacts that theBell family has donated over the years. They had very fast wifi inside SSID: AGB_Visitor Password: telephone
After we headed over to Alexander Graham Bell Park overlooking the water at Baddeck Harbour. A beautiful sunny and warm day around 25c but very windy, partly cloudy with beautiful surroundings! We had an early dinner as we looked outside at the yachts moored in the harbour. After a while we went over to the library to connect to the free wifi and upload the numerous photos we had. Once darkness arrived, with the full moon shining down on us, we drove around the area which is very beautiful at night, and saw the moonlight shine over the Baddeck Harbour. Stunning!
Headed over to Morrisons Auto Repair to spend the night there and await them for 8am to hopefully get the tire patched properly.
Monday September 20, 2021
Awoke very early at 6:30am, and had the heater running most of the night since it was a chilly 6c overnight. At 8am the owner Mark Morrison arrived, and one of his workers removed the tire, patched it and had it back on the van by 9am. Paid $80 for the service and headed out over to Baddeck Marine where they have showers available for $2. We parked up just inches away from a large white metal wall, had our shower, and when I came out one of the workers said our Sprinter van had an incident.
We parked up against a huge horizontal bi-fold door, that when opened hit the back doors near the top and damaged the camera housing cracking it in several pieces. Who knew that this large white metal wall was actually a door! We moved the van partially onto the street so they could open the door. Normally when cars are parked here, the horizontal folding clears any car parked there so it would never be an issue. But since our van was backed up close to the door, it messed it up! In hind-sight, if we had parked a bit further away from the door it would have caused more extensive damage, possibly tearing off the camera and the Flettner vent.
Bought some descicant from Baddeck Marine for $13 and hung that inside the van to help reduce the moisture in the van.
We picked up the pieces, placed the camera back in the lower housing hole which was not damaged, tested the camera and it still worked great!
We drove out of Baddeck nice and clean, with a few bruises on the Sprinter van. It's nearly 5 years old, so anything this old will get some sort of damage to it.
We currently have a patched tire, a cracked windshield, a cracked mirror signal lense on the driver side, a dent in the back right door, a broken camera housing, and a broken antenna.
We drove along the Trans Canada over to Whycocomagh and stopped at the ESSO station. Topped up the fuel tank with 45l of diesel at $1.23/l for a total of $58.40.
We continued on our drive out of Cape Breton Island. We had spent 3 weeks in this entire area along with Newfoundland and Labrador. We did a lot of exploring in this time, and we left much more to explore for the next time we visit!
We stopped over at Pomquet Point by the harbour, backed the van up to one of the picnic tables, took out our handy duct tape and taped up the cracked upper housing and attached it to the lower camera housing. This should prevent leaks and keeps everything together hopefully until we get home and order a new housing or a replacement camera. We'll deal with the issue later. We drove over to Bayfield Beach Provincial Park hoping they'd have water and washrooms but nothing there. We had lunch, then continued on.
Since the moon is full today, we stopped in Truro around 3pm. We stopped by the same Shell station that we went to last month to get water, since we were on our second set of two kegs which were probably half-way empty, along with the other two empty kegs. We filled all four of them up, and then went to the Tidal Bore Visitor Centre. We missed the tidal bore at 12pm, so the next one will be at 1:19pm tomorrow. It's definitely worth staying here for the next 20 hours to experience it! It is the only place in the western hemisphere where the ocean water pushes up against a river upstream! We've seen a video of it in the visitor centre, but to experience it in person will be worth it. The weather is beautiful, sunny and warm, and the time of the month to be here along with the moon's cycle is perfect!
We headed into town, went over to Sobey's and bought a rotissery chicken, sliced turkey breast, wraps, potato bread, milk and eggs. Headed over to the Taco Bell, bought a small nacho supreme along with 30 packs of mild sauce (only 5 cents per pack), and used the nearby Tim Horton's wifi while we had dinner.
Around 9pm we headed over to the gravel parking lot next to the Timmies and settled in for the night.
Tuesday September 21, 2021
Woke up at 7:30am in the gravel parking lot next to Tim Hortons in Truro after a good sleep. It was a chilly 5c outside and a cozy 20c inside the van overnight with the Espar diesel heater running on medium speed. Headed over to the Taco Bell Parking lot which faces the Tim Hortons, pointed the Nanostation to Timmies and got a really good strong signal. Had breakfast and then by 9:30am we headed out to the Tidal Bore Visitor Centre to await the 1:19pm tidal bore. A beautiful sunny and warm day today, decided to relax and spend a few hours here. They actually have free wifi called "Tidal Bore Guest Wifi", hooked into that, and had excellent speeds even through a VPN - 12Mbps down, 5Mbps up.
We hung out in the warm sunshine until the event happened right on schedule - 1:19pm - big flocks of birds started flying in the sky and making lots of noise as the wave rounded the corner of the river. Lots of people came outside to view the event, mostly grey-haireds. The wave came in up against the river water pushing it back, and over the next 15 minutes or so the river bed filled with the ocean salt water and the water level rose. Pretty neat to see this spectacle of nature!
Afterwards we headed out towards Halifax, stopping by at the Costco to buy a 4TB WD harddrive to backup our video collection, more baby wipes, come more food, and some fresh poutine for an early dinner. We also had the tire tread depth checked, and all 4 tires came out at 12/32 tread depth - they guy was impressed - he said it's like new! I think the Michelin LTX AT2 tires start out at 17/32 depth when new, and considering we've gone on very rough roads and across Canada and part way back, these are amazing tires. Highly recommended if you have a Sprinter van - get these Michelins!
We headed into the downtown area of Halifax, drove around a lot just exploring the area, stopped in at Point Pleasant Park to watch the boats in the ocean and to look at the cranes moving all the containers by the container port.
It started to get dark, and we drove around the city looking for a good spot. We ended up on the north side of Halifax by the Swiss Chalet parking lot, connected to their wifi and went to bed around 10pm.
Wednesday September 22, 2021
Woke up at 7:30am, copied our trip video over to the new hard drive which took a good two hours. In the meantime had breakfast and cleaned up the van inside. By 10am we headed out to downtown Halifax, driving through many different neighbourhoods. We parked in the Salter Street parking lot, got ready, paid $9 for three hours of parking. A brand new boardwalk extension greeted us with multi-coloured Adriadick chairs facing the harbour. We sat down immediately and basked in the sunshine. After a while we had a taste for a coffee so we got a coffee and a latte and went back to another set of chairs and took in the sights and smells of the water. So amazing to sit here in the sunshine! We found out that the brand new boardwalk was just finished for the July 1, 2021 Canada Day celebrations, so the boardwalk is less than 3 months old. They did an amazing job here - it looks really good. We slowly meandered around the area taking in all the sights.
After a couple hours we headed back to the van for lunch, then headed out to Point Pleasant park again. We headed north, driving through different areas of the city, and headed over to a Filipino store looking for snacks but ended up not buying anything since what we wanted, they did not stock.
We drove over to Conrose Park overlooking the Northwest Arm body of water, and watched sailboat races and the sun in the west slowly drop to the horizon while we ate dinner. The sunset was beautiful, as always, so we headed out after to find a spot. We settled for a Walmart, and the wifi was incredbily slow, we found a nice almost level spot facing the train tracks at the edge of the Walmart parking lot. Nobody bothered us all night long. Went to sleep around 10:30pm.
Thursday September 23, 2021
Woke up at 6:30am in the Walmart parking lot facing the railway. Overall it was a nice quiet night, with just one other vanlifer a spot away from us. Overnight it was a cozy 15c in the van - no need for the heater. It was also quiet overnight considering we were at Walmart.
Before breakfast we headed over to Flynn Park over on Quinpool Road and parked by the boat launch. Today we decided to just relax here for the majority of the day, overlook the water, read, and just take a day off from travel in the van.
In the afternoon we headed out to Canadian Tire to get 6 cans of butane at a cost of $23. The prices for butane here are double what we pay at T&T in Vancouver/Calgary/Edmonton. Each one of our butane canisters lasts us between 3 and 4 days. Headed over across the street to Sally Beauty to buy an Andis T-Outliner blade for $50, as the other one finally broke after a decade of use. We then went to Costco, bought an ice cream.
We tried getting Internet in the area but it was very slow, so we headed over to the Keshen Goodman Public Library, directly across from the Canada Games Centre. We parked in the parking lot, and got very good high speed Internet. We spent several hours here as well, having dinner, uploading photos, consuming Tiktok and laughing. Like I said earlier, today is our relax day. Just like what we'd do when we were at home, but in the Sprinter van.
Since our appointment at Mercedes was early at 7:30am tomorrow for the brake job, we headed over close by and found a nice quiet spot on a residential road at the intersection of Normandy and High Street next to a little church park.
Friday September 24, 2021
A very good and quiet sleep overnight. Woke up at 6:30am, had breakfast, then headed over to the O'Regans Mercedes Benz shop which was a few minutes away.
Dropped off the car, and waited from 7:30am to 4pm inside the dealership. Boring. They replaced the rear brakes, but told us the emergency brake shoes were still in good shape and they didn't replace. They also charged us for a brake inspection, even though I asked them to replace the rears. They also lubricated the front brakes since they said they were dry. Purchased the engine and cabin air filters for $97 total and would install it myself later. Since our antenna was broken, and we were already there, they removed the old one and put a new Mercedes Sprinter antenna back on. Total cost was just under $1,400 for the parts labour and taxes. Taxes in Nova Scotia are high since it is HST at 15%.
We drove out towards Peggy's Cove and the momement we arrived at 5pm, we noticed a burning brake smell coming from one wheel - the right rear wheel. Oh no, we've been in the Halifax area so long and waited the entire day to get the brakes fixed, and this happens. So we call, and of course everything just leads to voicemail. Worst case is we go back Monday morning at 7:30am to get them to fix it properly, or best case is it resolves itself and we continue on with our journey towards home on the west coast.
We looked around Peggy's Cove which is just a tiny hamlet with about 35 residents. The lighthouse here is the most photographed lighthouse in all of Canada. Between half a million and a million people visit this hamlet yearly. There are two large parking lots - one by the lighthouse, the other by the visitor centre.
We drove back to the larger visitor centre parking lot, installed the engine air filter and the cabin air filter. They both lasted 50,000km. The odometer on the Sprinter was 163,194km today when I installed the filters.
We moved the van over to a nice level spot at the back of the parking lot and went to sleep after seeing a gorgeous sunset over the hamlet.
Saturday September 25, 2021
Woke up at 7am and moved the van over to the parking lot closest the lighthouse. Gigi headed over onto the huge rocks, and sadly I couldn't due to my continued ankle pain. After a while of exploring we headed up the road to the SwissAir Flight 111 memorial and paid our respects to tho 229 souls that passed away in the ocean about 12km away from the coast in the Atlantic Ocean. We took the very scenic Lighthouse Route 3 the entire way from Peggy's cove to all sorts of small villages along the way. We stopped in Upper Tantallon and got fuel at the Irving for $1.31/l with 56l of diesel for $74.58.
Yesterday we pulled the emergency brake up as high as we could in hopes that it would slowly stretch the tight cable holding the brake pads, and the spring would do it's job and pull back the pads when we drove. We checked the temperature of the right rear wheel several times as we drove today, and that seemed to do the trick. The brakes were fine, and no more overheating.
We headed into Mahone Bay, and the small town was all set for Halloween already. It seems like it's a tradition in Nova Scotia to have manequins popped up on wooden sticks everywhere, especially in the cemeteries. We don't see that anywhere west of Nova Scotia so this was definitely something different.
We stopped over at the Mahone Bay Marina and we both took a shower there for $5 total. Our previous shower was 5 days ago in Baddeck, so this hot shower was so very welcome.
We drove into Lunenberg after 3pm, had a hard time finding a parking spot as it was packed with cars and tourists, mostly locals with Nova Scotia plates of course. We managed to find a spot near a church up on the hill, and walked through the town all the way to the BlueNose II ship. This is a replica of the ship on the back of every Canadian dime, and is also featured on the Nova Scotia licence plates. The BlueNose II is owned by the Provincial Government, and they provide free tours of the boat. We went on the boat and looked around, all nice and shiny! The area is very scenic and is a UNESCO World Heritage site. The homes here area also multi-coloured, and its such a scenic spot to visit.
We could spend a lot more time exploring Nova Scotia, but we'd be back home on the west coast in the winter, which is something we don't want to do. We want to arrive back before the end of October, so we figured it's time to head towards PEI and then head west after that.
We drove through Masons Beach, then up along route 103 towards Truro and arrived around 7:30pm in the dark. We enjoyed some cheap Taco Bell food - 7 layer burrito, Cheesy Bean and Rice Buritto and some nacho chips, got some lager beer at the NLSC and enjoyed a quick bite to eat. Found a good spot over by the Bank of Montreal Parking lot and settled in for the night. It started to rain just before we went to sleep.
Sunday September 26, 2021
Woke up in Truro at 7:30am in the parking lot at the cross roads of Commercial and Queen Street, with a decent sleep. It had rained heavily overnight and when we had breakfast the rain had subsided a lot.
We drove over to the Shell station to get some water again, since two of our kegs were empty. The rain by this time had stopped, so it allowed us to flll up without any issue. The moment we were done, it started to rain. The entire way was filled with heavy rain on our entire trip to PEI. Got back in the van, headed west along the Trans Canada to Highway 4 through the Wentworth valley over to route 307 to Wallace Station, west along the coastal route 6 through Pugwash, over to Baie Verte and then into Port Elgin and back on the Trans Canada route 16 over the 12km long Confederation Bridge into PEI.
Before we could proceed any further we had to stop at the massive covid checkpoint and show proof of being in the Atlantic bubble for at least two weeks. We used our Labrador Marine boarding passes as proof, since they were from August 31, 2021. We also had to provide our PEI Pass emails with the full name and PEI Pass reference number. After a few minutes at the checkpoint, we could proceed. We headed over to the Marine Rail Park and stayed in our van while we enjoyed lunch. Very heavy winds and rain prevented us from getting outside. We've been here back in August 25, 2015 during better weather, so we didn't miss anything.
We headed into Charlottetown in the early afternoon, took a snooze for a while before heading to the Fluff and Fold Laundromat at 5pm. We took all our dirty laundry, bed sheets and blankets and did a drop-off service. We drove over to the Domino's Pizza place and ordered a loaded medium chicken pizza, as their 50% off sale ended today. By this time the heavy rains had stopped for the day. After we enjoyed that we got a call from the laundromat at 7pm saying everything was done.
We picked up our laundry after paying $45, it was all nicely folded and still very warm and clean. We had them use the Tide laundry detergent that we brought from home, which made everything smell so good and fresh! A lot of money to spend on laundry, especially when you're used to doing at home - but having somebody else do it and fold it for us is priceless. And the thousands we save by not going into hotels on this trip already makes up for this relatively tiny expense.
We headed over to the Shopper's Drug Mart in the dark, settled into a good level spot, got free wifi and uploaded our photos from the past few days, and went to sleep around 10:30pm. The business closed at midnight, and nobody bothered us or asked us to move. A bit of noise from the street traffic but overall a good sleep.
Monday September 27, 2021
Woke up at 7:30am after a good night's sleep in the Shopper's Drug Mart parking lot along University Avenue, and drove towards the downtown area looking for a scenic spot to park. We drove a bit out of the downtown over to the Lawson's Drug store, parked in the rear of the complex and overlooked the Hillsborough River with a plenty of sunshine beaming on us while we had breakfast.
We went over and parked behind the Founders Food Hall in the morning and the weather was a beautiful 21c and sunny with some clouds. Walking along the boardwalk, enjoying the sights along the Peakes Quay Marina, walked over to Port Charlottetown, read about the Confederation and founding fathers of Canada. We watched boats, seagulls, a person fishing for mackeral off the pier, and then around 11:30am we headed over to the Chip Shack and enjoyed a container of twice-fried PEI fries on the picnic table on the wharf. Beautiful sunshine and vistas.
We slowly wandered back to the van, and decided to do the Red Sands Coastal drive. Topped up with diesel at the ESSO in Stratford. We followed much of the Starfish route, stopping over at Point Prim Lighthouse, Cape Bear Lighthouse. We dumped our toilet into the portapotti in the parking lot there.
The scenery is amazing, so many potato fields, big trucks on the highway laden with fresh potatos. We saw lots of the Atlantic Ocean along the route, lots of red sand everywhere. Nearly everybody's lawn was cleanly cut and groomed, and the houses are on large acreages. There aren't any mountains, just slight changes in elevation. We could see in the distance Nova Scotia and Cape Breton Island.
We headed into Murray Harbour around 6pm, parked and had dinner overlooking the water and the boats. A bit further on, we headed over to the ESSO and asked the store clerk permission to park overnight in their lot, and she agreed. We parked near the back of the building close to the propane tank rack in a level spot, and called it a night. It was just becoming dark at about 7pm, and good that we chose to park here earlier than normal since there aren't many places to pull over and park for the night. The roads don't have much of a pull out.
Tuesday September 28, 2021
Woke up at 6:30am at the ESSO in Murray River after a dead quiet sleep during the night. These very small towns are nice to visit and stay at because of the quietness during the night. We moved away from the gas station over to a tiny park close by and had breakfast there.
We drove along the Starfish route and came across an area near Graham Pond where all the lobster fisherman keep their traps inside little wooden huts next to the marina. A gentleman of 71 years old came by to where we parked and had a long chat. He's been a lobster fisherman for 50 years, lived his entire life here in Gaspereaux. Last year during the lockdown, he couldn't even give away lobster. This year he gets $10.50 wholesale per pound of lobster and the market price in the stores is about $17 per pound.
We headed over to Panmure Island and saw the lighthouse there, then headed over to Montague to the Sobeys to get some more groceries - some tortilla wraps, a 7-layer dip, a 5 pound bag of PEI potatoes that we plan to boil inside the van, along with some other things we ran out of. There is a Buffaloland Park in Milltown Cross which we headed to, but once we got there the road was filled with potholes, many filled with water, and the roads were uneven and tree branches loomed over the road. We're adventurous but we didn't want to take any chance here and risk tipping over in some parts. Branches had already scratched the right side of the van, so we put the van in reverse and backed out. We did see Buffalo very far away, but the drive in would not be worth it. We headed back to Montague and over to St. Peter's Bay where we enjoyed a late lunch near the Visitor Centre.
There litterally is so much to see and explore, we just don't have the time to do everything unfortunately. We'll have to leave some parts for another time either in this lifetime or the next. We headed into Morell and stopped over at the Irving station, bought some Noosehead beer cans, and then headed over to the Seafood Shack hoping to have a lobster roll and fries - the same place that Joel Hanson on YouTube went to the other day. Unfortunately there was a sign on the door that they were closed for the day.
We decided to head back into Charlottetown again, only 40km away, and then have some PEI fries in the food hall.
We headed over to the Founders Food Hall and Market and purchased a large fry from Big Burger. They are Cavendish PEI potatoes and they tasted very good - crispy outside and fluffy inside. We sat outside the building in the courtyard. Even though it was dinner time, the entire complex was nearly empty and it was just us two in the outdoor seating area. Covid still has an effect on this part of town.
After, we headed to the Shoppers Drug Mart again on University Avenue, bought some paper towels as we had just run out today. We hooked into their free wifi and uploaded our adventures.
We drove out in the dark to find a place to stay, and one vehicle in front of us decided that he could ignore the stop sign and we almost ran into him. Hard on the brakes, the fridge contents decided that our velcro strap holding the door tight was not good enough, and out came all our food from the fridge, along with the contents of a container from under the van. The garbage can fell over onto the floor which was luckily quite empty, the the 7-layer dip we bought at Sobeys yesterday decided to leak onto our carpet and floor. Honked at the guy, who seemed oblivious to the situation. We pulled over at the nearest parking lot, cleaned things up, and were glad that it wasn't worse and we and the van were okay.
We drove over to the industrial area just west of Charlottetown and found a spot by the side Mt Edward Road near Sherwood Road and called it a night.
Wednesday September 29, 2021
Woke up early at about 7:00am, had breakfast, and decided to do one more tour of PEI before we head west on our way home. We headed up towards Cavendish - the scenery along the way is stunning - rolling hills, golf courses, trees and more potato farms. We feel really good in this beautiful Province. In Cavendish we visited the Anne of Green Gables Historic Site within the PEI National Park. Canada Parks purchased the land and the actual house of the author Lucy Maud Montgomery. We paid $6 each to get in and view the inside storyboards and the actual author's house and family land. Gigi loves to braid her hair and do other types of hairdo's, and likes to wear hats as well. In the gift shop there was a PEI licence plate with a picture of the Anne character with double braids, a hat, and the plate number GG 0001. A perfect souvenir for Gigi in the van! Paid the $20, and took some fun photos of Gigi and her new licence plate! We had a good laugh!
It's the end of the season here in PEI. As we drove around the National Park shoreline, all the bathrooms, camping and shower facilities were closed. We did see some amazing sand dunes, a natural bridge formed by the ocean water cutting into the softer red sandstone. Lots of stops to see different parts of the shoreline. We drove into North Rustico where Canada's only rotating house is facing the Gulf of St Lawrence. We drove into the area and the houses within the neighbourhood are very beautiful. We took lots of photos and video of this area. There was a small fishing marina in the area with a few seafood restaraunts and lobster trap huts, along with a seafood market. I went inside of Doiron Fisheries where I purchased a nearly 2 pound pre-cooked lobster sourced from the south shore. It was $27 total with a market price of $15 per pound. The lady inside said their last day for the season would be on Saturday October 1, and would open again in May next year.
We moved the van over to the scenic harbour close by, got our Knipex pliers out to snap open the very thick lobster shell, got out all the meat and brains. We cut up some of the garlic clove we got from Katrina in Baddeck, and put that with a half-stick of Lactancia butter into the fring pan to heat up. We stirred in the lobster meat and brain. Took out some tortilla wraps, mayonaise and made our own version of the expensive lobster rolls we see here in PEI. Wow, this was so tasty! A lot of meat, and between the two of us we gorged ourselves on lobster wraps. Yummy!
After our tummies were stuffed full, we headed north and east along the shore for more scenic viewing along the Gulf Shore Parkway in the PEI National Park. This park is different than other National Parks we have been to, in that it s very narrow and long and covers a lot of the northern shore of PEI. It's fantastic that the Canadian government had decided to preserve this gem back in 1937 for the world to enjoy.
We drove towards Tracadie Bay, stopped by the harbour there where we saw lobster traps stored away in their huts, mussel traps filled with mussels and were about to be harvested by a bunch of young workers. By this time we had spent the entre day along the northern shore, and it was already 4:45pm. We decided to head out of PEI on our long journey home.
We drove along Route 6, and then along Route 2 westbound to the Confederation Bridge. We stopped at the toll-booth, paid the $48.50 toll, and headed into Cape Jourimain Wildlife Preserve to take photos of the Confederation Bridge, and then out again along Route 16, Route 15 into Moncton directly to the Casino grounds where on iOverlander they say people can camp overnight. We arrived at 7pm just as it was getting dark, found a spot far in the back of the grounds, turned on the heater as it was 10c here, hooked into the far away wifi from Petro Canada with slow but usable speeds. We to bed around 10pm.
Thursday September 30, 2021
A very quiet undisturbed night here, and we woke up at 7am, had breakfast, updated the journal here, updated the website and then headed out just before 9am.
Today was mostly a day of driving, going from New Brunswick over into Quebec. It rained for most of the day, so it was perfect for driving. New Brunswick is not nearly as scenic as the other Atlantic provinces, nor as scenic as Quebec.
Stopping over at the Covered Bridge Potato chip factory, and we did a short self-tour of the hallway along the windows looking inside the potato chip factory. They were down this week due to cleaning and equipment upgrades. Normally there is a $10 fee to get in, but considering their situation, the self-tour was free. We bought some sour-cream and onion chips and a bag of popcorn, and headed back to the van. Lots of interesting information inside, especially how they process the chips from raw potato to finished product.
We drove into Hartland just a few minutes away and drove over the World's Longest Covered Bridge several times. Gigi took photos of the van going back into the bridge, and then again coming out. A lot of traffic this time compared to the time we were here 6 years ago, so it was hard to get a perfect photo of the van and the bridge exit without any other vehicles present.
We then went over to Potato World museum on Florenceville-Bristol, paid the $12 entrance fee and looked around the large museum of various farming equipment and other potato related artifacts. We passed by the huge McCain foods processing plant, and unfortunately there aren't any factory tours available. Florenceville-Bristol is known as the French Fry Capitol of the World, One in every three french fries eaten in the world is produced by McCain Foods right here in Florenceville. We saw lots of laden potato trucks while we were in the area.
It was dump-the-toilet day once again, so we stopped by the Shell station in Edmunston close to the Grey Rock casino, dumped our toilet, cleaned it out and dumped our garbage.
Driving nortwest we headed out of New Brunswick and into Cabano Quebec. We stopped at the Shell station to get diesel, which is about ten cents per litre cheaper in Quebec than in New Brunswick. Price was $1.32 per litre, and we paid $79.62 for the tank of diesel. I went into the nearby grocery store to get some beer - a 6 pack of Busch beer is only $8 here - much cheaper than another other place in eastern Canada for sure! Bought some squeaky cheese from Fromagerie des Basques called Kwicl Kwick, sour cream and a few other things.
We pulled into a large gravel lot next to the Shell station, and over the next few hours other large trucks had joined us there for the night. Fell asleep early around 8:30pm. Mind you, the time had changed to an hour earlier since we are now in the Eastern Canadian Time Zone (EST).
Friday October 1, 2021
Woke up early at 6:30am Quebec time, had breakfast. Several trucks had parked with us overnight, and a few were left by the time we were ready to leave.
Today's route would entail a very scenic journey along Route 232 and then Route 294 northbound and then Route 132 westbound all the way into Levis Quebec. More than a month ago the trees were all green and the weather was hot. Today, the trees had changed a beautiful bright red, orange, yellow and some were bare. The view from above looking below into valleys was stunning - so much colour! We both nearly had whiplash looking from one side of the road to the other, seeing the autumn colours, the Quebec style of homes, the beautiful churches with spires reaching into the sky. Amazing views!
As we entered the town of Trois Pistoles we came across the Fromagerie des Basques. They make their own cheese and cheese curds here. It's $10 for a 600g pack of squeaky cheese curds, and we found some cheese bread (super yummy!), a lemon cheesecake tarte, and some freshly baked macadiamian nut cookies. So freaking good! We love Quebec, and it would be a great place to live, especially in the smaller towns close to a Fromagerie. Housing prices in some of the towns are less than $300k with large lots.
We drove through the very scenic Kamarouska village along the St. Lawrence River on Av. LeBlanc. Many signs showing $100 fine if you drive your camper or RV through this route, and they have no overnight parking signs everywhere! Lucky our van is stealth and doesn't look like a camper van, so I felt confident that we would not be bothered while driving through this area. It was a rainy afternoon passing through here, but it looked like a great place to visit in the summertime. many boutique hotels along the way here too and a good flat bike and walking route.
We passed many small towns along Route 132. We desperately needed a shower, and we came across the municipal camp ground Rocher Panet. We went to the main gate and into the office, paid the $7 ($3.50 for each of us), and headed over to the shower building. There were 5 private shower and bathrooms, so we each took one of the available rooms. A nice hot shower is so awesome after almost 6 days of not enjoying one! We had lunch and then headed west along Route 132. We stopped briefly at the Promenade du Bassin and took some pictures of the waterfall there.
We headed to the Costco in Levis Quebec around 5:30pm where we were last month, got ourselves some poutine for $5 and change, and feasted inside the van. The cheese curds they use at this Costco is the fresh squeaky kind, the kind that actually belong on a real poutine. The Costco in Vancouver and Halifax don't have the right kind of cheese curds at all. The gravy here in Quebec Costco seems a bit lighter and more flavourful than the other Costco's we have tried.
We rested a while, hooked up to the nearby A&W free wifi from the Costco parking lot.
Around 7pm we headed towards the historic Quebec City to see if the spot we stayed at last time was free to stay at again. We drove into old Quebec and nearly every parking spot was full. Considering it was a Friday nite, I suppose it's understandable. We drove around a bit and found a nearly empty lot by the VIA rail station at Rue de la Gare du Palais Parking. We parked in the spots without a parking number, and I think we parked in an area where parking permits were required Not sure, but the spot we found was relatively level, it's a Friday nite, and hopefully we'll be ok during the night here.
Saturday October 2, 2021
Woke up without any issues overnight. We ate, then headed out to the harbour, driving around a bit, then headed to the lower part of Old Quebec by the boat excursions area. Found a parking spot in a paid lot, paid $15 for 4 hours, and walked the very old streets. Many of the historic buildings were built in the 1600's, with a lot of history here.
We find this whole area simply fantastic, and is completely different than anything else we've seen all across Canada. We walked up to the Fairmont Frontenac, got ourselves a latte and coffee for $11 (yeah, expensive here at Starbucks!) and sat on the park bench outside enjoying the sunshine and 18c weather. We wandered into the inside of the hotel lobby, first time we've done that - its a marvel of old architecture mixed with modern stores inside.
We slowly walked over to the van after 3 hours of wandering around, ate lunch, then headed west to Montreal.
We arrived in Montreal around 5pm and went straight to a restaraunt called Ma Poule Mouilee which serves up Portugeuse chicken, but they also have a poutine dish with chicken pieces and chorizo. That was menu item #8, all in for $15. It was a lot of food for the two of us. Really super good - actually we liked this one better than La Banquise. This one had less gravy which we like better than having all the fries soaked in a pool of gravy like at La Banquise. We ate in the van, saved some leftovers in a ziplock for another meal.
We drove around, filled the tank with diesel at the Petro Canada at 3000 Notre Dame at $1.42/l with 60l for $85.61. We were in this area more than a month ago, and prices in Quebec were at least 20 cents per litre cheaper than now. Also, the temperature a month ago was around 36c - now it's 12c. It was three times warmer a month ago, and all the trees were still green back then. Now all the trees are a fiery red orange and yellow. Simply beautiful!
It's very difficult to find a level parking spot downtown, let alone find a spot that doesn't have any parking restrictions (usually after 23h you can park without a permit if you can find a spot). We drove outside about 15km to La Salle where we parked last month in a quiet park, which is very close to Rene Levesque park and across from the canal. No issues overnight at all. The days are getting shorter, and it's now dark at 7pm. The nights are much colder now, about 6c so we had the heater turned on low during the night.
Sunday October 3, 2021
We woke up at 7:30am, and before anything else we made coffee and tea and headed right back into Montreal again directly to St. Viateur Bagels, 24 hour bagel shop where they freshly make bagels. We were here last month as well, and really enjoyed them. Got sesame and blueberry bagels and a salmon spread all for $13 and muched on them inside the van. Super yummy! There are so many things to see in the Island of Montreal - churches, universities, monuments - not enough time on this trip to see even a part of it here. It is Canada's second largest city after Toronto afterall. We actually prefer the smaller towns and villages, and prefer even more the areas of parks and nature.
Today we drove a lot, through the Laurentian Mountains, enjoying the stunning views of the dairy pastures, mountains and valleys filled with bright autumn hues. We got out for a while to take some close up photos with the colourful trees. It was sunny with blue skies for most of the day today.
Filled up with diesel for $69.25 at $1.32/l and 52l worth of fuel. That was the cost to drive between Montreal and Val D'Or.
We drove for about 650km and 8 hours today, and stopped in Rouyun-Noranda by their Public Library on the street across from some residences. The wifi was nice and fast until it had an automatic shutoff at 8:25pm. The night was cold so we turned on the heater around 2am. Outside it got down to 1c and there was frost on the vehicles outside.
Monday October 4, 2021
Woke up at 6:50am and got up right away to drive out of town. Since it was a Monday morning, we were't quite sure if we missed seeing any parking restrictions so we left, headed north to the Petro-Canada/Tim Hortons station and parked in their lot while we had breakfast. It's 1c here this morning, and the sky is very clear and as the morning progressed the sunshine came out. Another brilliant day without rain!
A long day of driving, blue sky and sunshine the entire day. Fall colours are amazing, but fewer maple trees here, so much less red. Birch trees are light to dark yellow leaves. More pines as we travel north and westward.
We crossed over the Quebec to Ontario border and stopped briefly in Matheson at the boat launch area and looked at the 1916 fire memorial and enjoyed a brief rest in the sunshine overlooking the lake. We stopped in Cochrane at the ESSO to fuel up again. Diesel was $1.44/l filling up with 33.7l for a total of $48.51.
We stopped in Moonbeam and filled up our water tanks 2 completely empty kegs and 2 nearly empty kegs, with two reserve kegs. We spent two hours here, filling up the kegs, eating lunch, and using the Visitor Centre very fast wifi to upload many of our photos. Topped up the DEF tank, and finally ran out of the container of DEF that we had purchased in Fredericton New Brunswick at the Home Depot.
We stopped in Longlac for the night, arriving around 8:30pm in the dark. Since we were heading west we could still see a glimpse of sun rays reflecting in far away clouds. We stopped on the parking lot next to the Four Winds Hotel facing the freeway, turned on the heater since it got down to about 1c during the night.
We were disturbed by some drunks around midnight, who decided to scream, fight, and play very loud First Nation drumming music. After they wandered away we had a good sleep.
Tuesday October 5, 2021
Woke up around 7:30am, made breakfast, started the van, and immediately the check engine light came on at 167883km. Oh joy! It wasn't flashing, so instead of panicking we just continued on our way without any issues for the rest of the day. We stopped at the ESSO in Geraldton, I tried to get the ODBII bluetooth device working to no avail, hoping I could check the code via TorquePro which we have. On our next trip I'll get the Xentry and hardware necessary to self diagnose the van. Learning as we go along.
Filled up with diesel at $1.53/l with 45.5l for a total of $69.74 and we continued on our journey westward.
We stopped briefly to get a selfie with the World's Largest Snowman in Beardmore. Great sunshine gave us some nice photos today. A month and a half ago we were here and passed it since it was very smokey and we had lots of rain storms too.
We arrived in Thunder Bay and stopped at the Husky ESSO station closest to Kakabeka Falls to take a much needed shower, then had lunch, then continued on.
We stopped at the ESSO in Upsala again just like a couple months ago, to get fuel and a couple cans of Ontario brewed beer called Laker Ice. Filled up with 32.8l at $1.70/l for $55.89. This is now the second highest price for diesel that we paid on this trip. Prices here in northern Ontario have really gone up over the past few months. I dread to see the prices near Vancouver.
We stopped in Ignace for a much needed rest for about 90 minutes of shuteye, then continued on around 5:30pm
We arrived in Dryden at 6:45pm, ordered a medium pineapple and ham pizza from Domino's with our reward points so it was free for us. We parked in the same lot as Domino's, pointed our wifi to ShawGo and got free wifi overnight.
Wednesday October 6, 2021
Since we faced the highway all night, there was a lot of truck traffic at all hours, so it was a noisey night. Not the best sleep, but it was barable. We headed out, stopped at Dixie Lake rest stop to dump our toilet and our garbage. The weather was beauftiful today, sunny and warm with blue skies.
We drove through into Kenora, took a photo of the Kenora sign, then into the downtown area, took a photo of Husky the Muskie fish from afar, and continued along Highway 17 westbound. We stopped at the Manitoba sign to take a few photos. The landscape changed quite dramatically as we went from rolling hills in Northern Ontario to flat ground all the way into Winnipeg. We stopped at the longitudinal Centre of Canada rest stop - 96deg 48' 35", took some more photos, then continued onto Winnipeg. It was a balmy 28c when we stopped for lunch at Jollibee. We bought a 6-piece bucket of 3 spicy and 3 non-spicy leg and thighs, along with a large mashed potato and gravy.
We devoured it in the van since it was already 1:00pm. We hooked into the Staples Wifi, uploaded our pictures, then napped for 90 minutes in the shade of the building nearby. The nap really helped since we didn't sleep that great the night before, and we'd already travelled 400km since Dryden. We stopped at the Costco to stock up on some groceries and plastic bags (garbage and pooping of course!) Picked up a 4-pack case of windshield washer fluid good for -45c below. We go through this stuff a lot along the trip especially in northern Quebec and Ontario due to the large number of bug splats we get on the windshield.
We then went over to the Home Depot to get some DEF and top up the Diesel Exhaust Fluid. I also picked up the brand new Milwaukee M12 blower, which I was really excited to use to help clear the dirt and dust out of van. What a dissapointment! Using our large capacity 6amp M12 battery, the blower has two speeds, one low, one high. On high it does move the loose dirt, but can hardly budge the dirt in the carpet. My air commpressor at home - the Rollair Bull - does a much better job of clearning out the dirt. After two minutes of use, I packed up the blower and returned it for a refund!
We then headed over towards the Jollibee area and parked on the road on Milt Stegall between Ellice and Yukon, found a level spot and called it a night. Could not get a good wifi signal though.
It was a very quiet night, with barely any traffic. Made for a good sleep!
Thursday October 7, 2021
Woke up after a very good sleep, with it being quiet overnight on the road in the industrial area we parked in close to the Jollibee.
We drove over to Gunn's Bakery on Selkirk Avenue, picked up an assortment of bagels to try and also their homemade Winnipeg-style cream cheese. A 7oz package of herb and garlic for $6 was very tasty, much better than the Philidelphia Cream Cheese we are used to from the supermarkets.
We drove over to Norquay Community Park, and parked on the road since there was no parking lot, and devoured the bagels. Each bagel only costs $0.79 whereas in Montreal, the bagels we bought at St. Viateur are $1.00 each. The bagels here in Winnipeg are more fluffy and some are made with egg. The ones in Montreal are much chewier, which I personally prefer, especialy when they are hot and fresh out of the wood-fired oven.
As we drove to the park this morning, the temperature outside was 18c. We noticed the check engine light went away by itself at 167,854km. Yesterday it was 32c as we approached Winnipeg. Its probably an emmission related code, since when we travelled over to Longlac it was cold at night.
We continued west along Highway 1, stopping at Indian Head at the ESSO to get diesel for $1.42/l with 57l for $81.41, then got some photos at the massive Indian Head Tourist Information Centre.
Again, headed west stopping in at the Costco in Regina, got some poutine for dinner, and parked there on the back portion of the lot all night long undisturbed. It was a chilly 3c at night, so we had the heater on.
Friday October 8, 2021
A good sleep was had last night, and nobody bothered us. Woke up at 6:30am (earlier due to the recent time zone change yesterday) We headed out to the Regina Husky station, used our Husky Reward points to get a nice hot private shower, then got back in the van, drove around Regina to get a quick feel of the city, then continued west again.
We entered Chaplin hoping to find a toilet to dump our toilet, and the visitor centre was closed for the season. Continued on to Morse, and found a nice quiet dirt road running through Reed Lake, and parked there for a couple hours while we had lunch and rested. A lot more to travel today! We noticed huge areas what looked like snow, but obviously wasn't. There are sodium deposits in and around Chaplin, and the Saskatchewan Mineral company mines North America's largest sodium sulphate deposits there. Many NO TRESPASSING signs along the highway as well.
We stopped in Swift Current looking for a place to dump our toilet to no avail. The rest stops shown on my map were outdated and non-existant. We continued on, stopping again at an area where they had a picnic table sign. The washrooms were boarded up, but a bit further on were a couple of newly cleaned porta-potties! We dumped in there, and got rid of our garbage at the same time.
Still more driving today, passing through from Saskatchewan into Alberta, with a barren treeless landscape greeting us in Alberta. The temperature today ranged from a warm 23c in Saskatchewan and sunny to around 11c when we arrived in Medicine Hat Alberta. We stopped in at the Sobeys Beer store and picked up their generic 8-pack of lager beer for $9. Everything else there was double the price of the beer in Quebec. If you want cheap alcohol in Canada, head over to Quebec!
We parked over at the Staples, connected to their free wifi and had dinner and rested. Nearly 500km of driving done today!
Our tank was at 1/4 level so we headed over to the local PetroCanada and filled up with $1,30/l and 60l of diesel for $77.55. This way we have fuel for tomorrow's drive into Calgary, and also so that our Espar does not run out of fuel overnight.
The night was clear yet very cold at 0c overnight.
Today marked exactly two months in the van travelling from our house across the country and nearly back again. We've seen a lot, yet there is way more to see of this country! It's the world's second largest land, so we could explore way more!
We drove around a bit and found the Co-Op fuel station had a nice level spot for us to park in the back. Their wifi disconnected a lot, but we aimed our antenna over to the Home Depot and caught a very good strong signal for the night.
Saturday October 9, 2021
Again nobody bothered us all night long at the Co-Op parking lot. Only a few cars were there including ourselves. We drove from Medicine Hat over to Bassano and took a $2 shower at the ESSO station there. Nice clean and private shower stall with very high pressure hot water. Felt so good!
We continued along the Trans Canada over to Calgary and stopped by our last Jollibee's for this trip and the forseeable future. Got ourselves a 6 piece mixed bucket of chicken along with Filipno spaghetti. Yummy! A short rest and then headed over at the Cabela's mid-afternoon with the intention of just sleeping here on the lot overnight. If they kick us out, we'll move, otherwise we'll stay. The complex is part of Deerfoot City, a seemingly newer shopping development.
We connected to the Canadian Tire wifi all night, and it switches off around 11pm.
Sunday October 10, 2021
Woke up very early around 5am today, made coffee and relaxed a while before the sun rose. Nobody bothered us the entire night here on the Cabela's parking lot. A bit noisy from far awat highway traffic all night, but otherwise slept well here.
We left around 9am, headed over to the Costco nearby and bought a new pair of jeans as my current ones are wearing out, and some Quaker Oats that were on sale. Bought some fresh poutine with good squeaky cheese in it and had it inside the van. No more poutine for a while else our waistlines will grow and we'll need a bigger pair of pants!
We headed back to near the Cabela's for Gigi to do some clothes shopping at H&M. The weather was around 10c and sunny, byt around noon, the clouds rolled in and very high winds began to blow. We headed over the long way along Route 1A bypassing the TransCanada highway so that we could do the scenic drive into Canmore. We saw mountain sheep along the way, Bow River and several other lakes. The mountains in the distance became closer, the temperature dropped to 1c and it began to snow as we approached Canmore. It turned to rain when we arrived, which thankfully cleared all the bug-splats off the windshield.
Filled up with diesel fuel at the ESSO and bought 51l at $1.40/l for $71.50. We drove around and parked over at the Safeway to get some cheap beer - an 8-pack for $10, along with some groceries, then rested for a while. The temperate here was around 5c with expected lows to be around -8c tonight. Turned on the Espar diesel heater for some nice dry comfort inside the van!
We drove around the area, wooing at the fresh snow-capped mountains surrounding Canmore. A very beautiful city, very clean with a lot of beautiful new homes reminicent of Whistler BC. A quick check on realtor.ca showed that homes are not cheap here - 600k will get you a small condo, 1.1m will get a decent house, and over 2.6m will get a very nice large house. Perhaps we'll stick to vanlife for a while and travel to different places around the world instead.
We found a nice level spot in front of a church on the side of the road along 7 Street between 6 and 7 Avenues.
Monday October 11, 2021
The night was very quiet and cold outside, yet inside we were very comfy at 18c which was great for sleeping.
Woke up early, got ready and looked out the front window - condensation was frozen at the bottom portion of the windshield. The sunshine was lighting up the mountain providing for spectacular views!
We headed out with blue sky and sunshine, in awe of the views we were seeing as we drove towards Banff. We stopped briefly at a rest stop, dumped our toilet which was nearly full. A dusting of snow covered the road and surrounding landscape.
Continued on all the way to Kamloops where we stopped for a late lunch at Taco Bell - both of us had a 7-layer veggie burrito and a Doritos hard shell beef taco. Yummy, quick, easy, and no need to cook - but this small amount of food amounted to $17 - we can get a lot of groceries for that amount, but YOLO.
It was sunshine all the way into Merrit, where we filled up with diesel for $1.56/l. No receipt but the fillup cost about $85.
As we headed over the Coquihalla, we saw the damage from the summer's wildfires. Tens of thousands of hectares burnt, and the parts affected were areas where we had previously camped near the Coldwater Road (see our other posts from previous years). We felt really sad seeing the destruction.
As night fell, we hit a milestone on the Coquihalla - 170,000km on the 2016 Sprinter van!
We arrived in Hope at 7:30pm, found a spot on the parking lot facing the Save-On-Foods, hooked up the wifi to connect to their network. When in Hope, Save-On-Foods has the fastest and best wifi we have found so far. It's fast, on all night long, and reliable over the past few years of visiting. The temperature this evening was 2c, and we had the heater on all night long keeping us ultra-comfortable.
Tuesday October 12, 2021
Woke up early around 6am today, peeked outside the window and saw several othr cars parked next to us. They all had condensation inside their windows, meaning people had been sleeping in their cars all night long.
We got ready, then headed out to the Costco in Abbotsford to stock up on groceries for our home.
Today marks the end of a continuous 2 month journey, and exactly 3 months of travel since we started on July 12, 2021.
What an amazing trip and experience to travel across Canada. We are very lucky to travel for this long, experience the second largest country in the world, drive from west to east and back again.
26Jul2021-04Aug2021 Tsawassen, Nanaimo, Campbell River, Sayward, Port McNeil, Port Hardy, Port Alice, Holberg, Cape Scott
Nights This Trip: 9, Total Nights Sleeping in the Van during 2021: 18, Months: 0.6
Monday July 26, 2021
We left the house at 1:30pm, got to the Tsawassen Ferry Terminal at 2pm, paid $113 total with fees. The breakdown is $79.75 for the van of length 23 feet and $35.20 for two passengers, and a $0.50 port fee. We were told it was a two sailing wait, which would put us on the 8:15pm ferry or the 10:15pm ferry. As luck would have it, we boarded the 5:45pm ferry. The views were incredible, with a two hour ride over to Duke Point Ferry Terminal in Nanaimo.
We drove up the Island Highway to the local Costco in Nanaimo but they had just closed. We ate dinner in their parking lot, then headed north again on the side roads by the water all the way up to Parksville. It was getting dark by this time and arrived at 9:45pm at a large gravel parking lot across the street from the Ricky's All Day Grill. We managed to use our Nanostation M2 to grab their free wifi overnight to upload our photos and some videos, probably around 300m away!
Tuesday July 27, 2021
We woke up in Parksville early at 6:30am and the sun was already shining on the van. We had breakfast, made some coffee and tea then headed north along Highway 19A. We took the scenic coastal highway over to Qualicum Beach and met a worker from the City of White Rock who had a meeting locally later that morning about the field planning for the new dock to be built in White Rock. He said the concrete pilings were actually cheaper on the Island than purchasing locally in Langley or Coquitlam.
We then drove over to Ships Point Regional Park and enjoyed the walk along the ocean looking at tiny crabs, oyster shells, families of ducks swimming in the water, and taking lots of photos. We walked all the way to the point, took some beatiful oyster shells with us, then headed back to the van to make some more coffee and tea.
We drove through Union Bay, into Courtney and drove over to Comox and visited the Marine Park and docks, and then over to CFB Comon Airport to enjoy the Comox Air Force Museum Heritage Air Park and viewed the many older aircraft they had on display. They are closed Mondays, and the hours are from 10am to 4pm.
Then we drove towards Campbell River and got some photos with the 50th Parallel Monument marker. It's a beautiful town, with many new condos and apartments overlooking the water. We found a brand new Filipino Asian food store and bought some chicharon as a snack. Then we went over to the Walmart to stock up on 8 bottles of sparkling water, some crackers with herb and garlic cream cheese, bananas, coleslaw and some salad dressing. Much cheaper to do vanlife this way than to buy food at restaraunts.
We drove over to the Roberts Lake rest stop to take a break, and napped for an hour and a half. We then continued on Highway 19A to find a BCFS campground which was free of charge. The campground is called Elk Creek BCFS Campground. We got spot number six, a very level location, and backed the Sprinter up into the spot.
Many bugs and mosquitos in this heavily wooded area, so we did an unboxing video of our brand new Thermacell mosquito repeller. We've been able to keep the van doors and windows open the entire evening without having bugs fly around us, and most notably, without having any mosquitos in the van! We've never been able to do that in any park - normally we have to shut all the doors and windows because the bugs and mosquitos really love to get Gigi.
You NEED to get a Thermacell. Get it here on Amazon: Thermacell Patio Shield with 72 hour refill (View on Amazon)
Wednesday July 28, 2021
We woke up early at the campground, had coffee and tea and breakfast, then headed up towards Port McNiel. But first we drove along Highway 19, found ourselves a nice rest stop to dump our toilet and garbage, since the last campground didn't have any services. We had met an older retired couple that just finished a short trip from Lethbridge to a fishing expedition. They had caught 30 salmon fish, and they had paid $6000 for the experience including the fish, food and hotel. It was their 47th wedding anniversary. The used some of our duct tape to tape the seals of their boxes to hold in the cold ice to further protect their fish. They would then fly the next day from Comox back to Calgary then drive back to Lethbridge.
We continued our drive up the Island Highway towards Port McNeil, after passing several lakes along the way. A ferry had just arrived and started to disembark and load a new set of vehicles, and off it went to Atomic Bay. We enjoyed lunch by the side of the road as we watched and heard the birds, the boats, One of the attractions in Port McNeil is the World's Largest Burl - a tree truck/root that is from a 525 year old Sitka Spruce tree and weighs in at a massive 20+ tons and a circumference of 13.7m its really big! A burl is almost like a cancer on a tree - it is created by an injury and infected by fungus, bacteria or virus and then forms to be as small as a baseball or as large as this one.
We continued our drive around Port McNeil including the residential area to get a feel for the village. We continued along the Island Highway 19 to arrive in Port Hardy. We arrived around 2pm, ate some lunch, then had a nap for a couple hours. Once we felt refreshed we walked around first along Carrot Park and saw a walk by the local Indiginous people bringing suicide awareness to the people. Unfortunately there are several suicides amongst their family members, and hearing the stories was heartbreaking. We walked over to the Port Hardy Monument at Carrot Park, where there were many stuffed animals and toys laid at the base in memory of those murdered by the Catholic Church here at the Residential Schools here in Canada. Very sad to see.
We had dinner and then walked over to the Family Fishing Pier by the Canadian Coast Guard wharf. We witnessed a pair of Coast Guard workers pickup a dead purpoise (baby dolphin) that had been injured most likely by a boat, and looked as if it had some burn marks. They slid it gently into a double-bagged garbage bag and took it away into their office.
We then drove around the area, over to the ferry terminal which is located at the end of Highway 19. The ferry terminal was closed and fenced off - and no overnight parking is allowed. The ferries bring people and vehicles to Prince Rupert for the 22 hour journey. This is something we'd like to try one day too! The cost for two people and our Sprinter van would be around $900 for a one way journey. If we were to do it, we'd travel to Prince Rupert, then drive east along the Yellowhead Highway over to Prince George, then down Highway 97 back towards home. Definitely a long journey but would be a neat adventure!
We stopped for a while to watch the sunset at Bear Cove Park close to the terminal and watched the boats, heard woodpeckers, saw an eagle roosting on a nearby tree.
We then headed back into the town of Port Hardy, drove through the residential district to get a feel for the area, then found a good level spot next to some apartments and called it a night and slept early at 10pm.
Thursday July 29, 2021
We had a very quiet and restful sleep and woke up to a lot of morning fog. We took some photos of our parking spot, and then headed over to a parking lot close to the Coast Guard wharf and had breakfast and enjoyed watching the sunshine break through the fog. We could see the very fine fog mist come through the windows of the van, and the smell of the salt water air. We watched as birds flew overhead, and watched as birds ate the crabs during low tide.
We headed out to Coal Harbour, a short drive along paved roads. Only two piers here, mainly for fishing and recreational boats, and some residential homes in the area. It is a village that was also logged.
After, we headed back to Highway 19 and a short drive later turned left onto Holberg Road which initially is paved but becomes a rough dirt road with washboard ruts. It was extremely bumpy at first, with all the dishes and pots clanging and making a terrible noise. We stopped, put our clean cloths between everything and then headed out. Less clanging but still rough. We decided to reduce the tire pressure from 54 in the front to 45, and from 75 in the rear to 63. This already made a huge difference, and we enjoyed a much smoother ride towards our destination.
Along the way we saw the Holberg Shoe Tree - hikers and campers for years have put their old boots and shoes up against the tree. Pretty neat sight, so we stopped for a few minutes to take some photos and video. We continued on, passing several lakes and replanted forests.
When we arrived about 90 minutes later in Holberg, we drove around the area a bit - there is a Holberg Canada Post, a restaraunt, a fuel station and kayak rental and tiny grocery store and several abandoned homes in the area. The Western Forest Product logging company has an operation here - lots of Ford 4x4 trucks to go up into the local mountains for logging purposes. We stopped in the restaraunt's parking lot for a bit to take a break, take in the views and have a small bite to eat in the van.
We then drove over to the end of Doch Road which we found had a wharf with three boats. The Holberg Wharf was built in 2011-2012. We found a level spot to park at, and others had come by also to use their phones. We came to learn that this particular spot was the only location people could get a 4G cellular signal. People would talk to family members, friends, or gain access to the Internet for brief periods.
Lots of sunshine during the day, and we walked over to the wharf and Gigi had ventured out onto the logs in the water. Lots of photos and video. It was also quite windy at times. We took in the sights and smells of nature, and it was very relaxing. We watched as the sun set, the air became calmer, and night took hold. It was unbelievably quiet here. We went to sleep around 10:30pm, and had a very deep sleep - most likely due to the fresh air we inhaled.
We woke up around 2am, to see the moon high above, reflecting on Holberg Lake. So quiet - it was pure joy and relaxing. We went back to sleep until about 4:30am.
Friday July 30, 2021
I woke up at 4:30am, got some coffee ready, then by 5:30am got the video camera out to do a 2 hour timelapse video every half second, which worked out to an 8 minute video. The light was just starting to come up, the fog started to lift and come in again, and watched as several sea otters popped their heads out of the water and enjoyed themselves in the early morning.
We left on the rough logging roads up to Cape Scott from Holberg, came across Ronnings Garden, and stopped to do the short 15 minute walk up to the garden. Many flies and mosquitos, so we triple-proctected ourselves with mosquito spray, mosquito coil and brought along our Thermacell. The combination kept all the bugs off us, and we didn't experience any bites. We walked in the garden, and immediately noticed the smaller monkey tress, then the huge world's tallest monkey tree, along with yet another one hiding in the forest. We took many photos, walked around the garden which was well groomed and run by volunteers. We walked out back to the van, and continued on the rough road to Cape Scott's main parking lot. The hike to the Cape is only 3km to see the beach, sand, and ocean but my ankle injury prevented us from walking there. Very unfortunate.
We had lunch, then headed over to the Cape Scott campground just to check it out. A one way trip in, so we had to turn around at the end. Several campers were already there - its the BC Day long weekend. The camping spots are pretty rough and not level. They only cost $10 per spot, which is very reasonable. We continued on our journey towards Port Hardy via the rough roads from Cape Scott to Holberg and over to Hardy.
We stopped close by the Port Hardy Canadian Coast Guard wharf, had an awesome view of the water, and then had a snack.
We then headed over to Port Alice along the well paved Highway 30 which was winding and looked very park-like along the way. We arrived at the Port Alice Seawalk parking lot and took an hour nap. We got up, explored a bit, then drove around town. We dumped our toilet at the free RV dump along the road, and filled up our water tanks with fresh drinking water.
We drove through the small residential district, then went over to the Port Alice Grocery store and bought some crackers, milk and bananas. We headed over to the water, in a section where somebody put some benches and a small memorial dedicated to somebody. We had dinner there and watched the sun set down beyond the mountains. We met a local named Heidi along with her three children and learned a lot from her about the local area. The marina has showers and laundry, and was built in April 2021. We found a spot to stay in the overflow parking lot across the street from the marina, and fell alseep around 11pm.
Saturday July 31, 2021
Woke up early at the Port Alice marina long-term overflow parking lot where we stayed overnight. A decent level spot, very quiet at night. Woke up at 7am from a truck next to us parking is truck and boat trailer next to us. We figured we move and make space for others, so we moved across the street over to the Marina. We had coffee and tea, then around 9am each of us took showers for $1 each, lasting 8 minutes - more than enough time. We felt so much better and clean! I headed over to the medical clinic to have a nurse look at my foot which was causing me a lot of pain. She tensored it up and gave me several ibuprofin and tylenol.
We headed over to the Port Alice loop, which included a stop at the Link River Regional Park recreation site. The site included several camping spots, and an awesome view of Alice Lake, a freshwater lake where people swim and boat. We stopped in spot #3 for half an hour to take in the sights, sit on a log and watch the water, clear skies and hear the sounds of birds and the waves.
We continued on with the loop - it was all gravel, not as bumpy as the one near Holberg, and then continued on back to the paved road and had lunch at the Port Alice Seawalk parking lot. The entire trip including the stop was about and hour and twenty minutes.
We had a simple lunch, dumped our garbage, Gigi was yapping to her brother for a while on the phone. We then headed out of Port Alice and over onto Highway 30, when we re-joined the dirt road on the way to the Eternal Fountain. Passing parts we had just travelled a couple hours earlier, we passed the Link River Regional Park signs, then took another untravelled route towards our destination. We arrived, got our mosquito protection out as there were many bugs, then headed for the very short hike around the loop. It was a simple waterfall from one cave down into another cave. There are nice new wooden steps around the trail. I continued to walk, and my right foot gave out while going up a bit of a hill. I screamed like a girl in pain, and fell a meter down towards the waterfall. The camera was filming, and looking back at the footage, the DJI Pocket 2 camera actually detects the fall and pulls its lens inward to protect it, and turns off recording. Pretty neat actually!
I picked myself up, and then continued on the hike, and then back to the van. We then headed out the backroads for another 30km or so towards Port Alice. We stopped at a tiny lake along the road, and noted how deep it was. Gigi enjoyed climbing on the rocks and exploring the area. A lot of dust on the van from this trip. We continued on where it rejoined Highway 30 and then Highway 19.
We came across Beaver Cove and Telegraph Cove. Beaver Cove seemed like a logging operation only, with no homes around. But Telegraph Cove had a beautiful old resort, marina and RV park. It's only open from May to September for tourists, as the weather outside those months are unbearable - cold, rain, winds and storms. The resort has the last remaining boardwalk on all of Vancouver Island, and a lot of history dating back to the early 1900's. The area was once used as a salmon saltery and a mill during the World War II. A lot of historic buildings were converted into little hotel rooms for tourists. They also offer whale watching trips by Zodiak, bear watching by kayak, salmon fishing, and many other outdoor activities.
We continued on our journey all the way to Sayward, where we stayed the previous week in Elk Creek BCFS Campground, where there were 4 other campers besides us. We went to sleep early around 9pm. It was very quiet at night.
Sunday August 1, 2021
We woke up at 9am, slept in with a very deep sleep. Fresh mountain air really helps us sleep well. It was yet another sunny day, as it had been for the past week here on Vancouver Island. Gigi made breakfast, I had coffee, and afterwards we walked around the campsite road before we heading to our destination of Campbell River.
We stopped in the Village of Sayward which is 10km north of the highway. The library and grocery store have been closed and abandoned and the buildings up for lease. There is a primary elementary and secondary school building all in one, and there are several homes in the village. An RCMP station, medical centre, and firehall.
We continued our drive into Campbell River where we went back to the Filipino store to get some goodies like chicharon, some chips, and butter crackers. We then headed over to the Walmart a couple minutes away, bought more sparkling water, cream cheese, crackers, and apples and bananas. There are only two cashiers open, the rest are self-serve isles. We refuse to do self-serve so the wait was about 20 minutes to get our groceries processed. We're starting to despise Walmart even more due to this lack of service.
We parked at the Walmart, got the Ubiquiti Nanostation out and hooked into the Walmart McDonalds for a while until the signal faded. We then went over to the local A&W, hooked into their French version of the SSID, and enjoyed fast internet. Backed up some of our photos, downloaded some NetFlix movies, and rested. We had a simple dinner then left to explore Campbell River some more.
We headed over to the Campbell River Pier, had a two-scoop cup of Maple Walnut ice-cream for $4.00 - well worth it and a great desert to have while sitting on a bench overlooking the water and Quadra Island. The sunshine was warm, the boats were travellng along the water, people were fishing along the dock. We walked to the end and back again and spent most of the evening here as it was so relaxing. There is also a small aquarium at the entrance to the pier, great for little kids and families, though we did not enter.
We headed back to the van, drove around a bit, and ended up at Discovery Marina. It's a gravel parking lot with "NO CAMPING" signs. We talked to another vanlifer, and asked about the parking situation. He said it was fine to park here, and that there is a security car that comes by once in a while and they are fine with vanlifers parking here.
We found a level spot facing the road, across which is the McDonalds and Boston Pizza and Wendys. Tried to hook into their wifi but was unsuccessful.
Gigi watched her NetFlix shows, I sat in the front seat and enjoyed looking outside to watch the sunset. We went to bed around 10:30pm that night.
Monday August 2, 2021
Woke up at 7am to beautiful blue skies and sunshine. We had breakfast coffee and tea, cleaned up, then headed to the Elk Falls Suspension Bridge about 10 minutes away from Campbell River. We arrived at 9:15am, not many cars in the parking lot at that hour. It was BC Day holiday so many people are off for the day. We headed over onto the trail and walked a total of 3.2km return over to the suspension bridge. I needed some pain killers in order to hike which made it a bit more manageable. The bridge itself is quite sturdy, reasonably short (in comparision to the Golden SkyBridge), and fenced in on both sides. There is a deck on the other side to see the falls down below. A very scenice walk through the woods, and many friendly people along the way saying hello.
We spent 2.5 hours at the park in total, then headed back to Campbell River to park once again at the Marine Heritage Building parking lot. We walked over to Dick's Fish and Chips across the street, and ordered a 2-piece cod and chips. It was okay, nothing spectacular - the batter was thin and a bit soggy, but the fish was nice and firm. We haven't eaten deep-fried fish and chips for quite a while. We ate in the van overlooking the ocean.
We then packed up, and headed south out of Campbell River towards Victoria along Highway 19A and 19. We arrived in Victoria around 7pm, and parked close the the Government Legislative Buildings. We walked over to to take in the sights and walked along the harbour as well.
We headed back into the van, drove out over the the Breakwater District where across the water we can see Port Angeles and Neah Bay in the USA. We found a very level spot along Dallas Road very close to the Surf Motel. There was minimal traffic at night, and we could hear the wind and waves crashing during the night.
Tuesday August 3, 2021
Seagulls woke up just before dawn. The parking spot we had must be vacated for local residents between 8am to 5pm Monday to Friday. So we moved across the street to the free parking area at 7:45am which allows for 3.5 hours of free parking anytime. We faced the ocean, saw the boats, birds, and had our breakfast.
Wednesday August 4, 2021
Headed home via the Swartz Bay Ferry in Victoria at 9am to Tsawassen. A very good 10 day trip!
12Jul2021-21Jul2021 Princeton, Trail, Golden, Banff, Calgary, Edmonton, Jasper, Valemount, Kamloops, Hope
Nights This Trip: 9, Total Nights Sleeping in the Van during 2021: 9, Months: 0.3
Our first real vanlife trip in more than half a year. We're both doubly vaccinated, and have come through the pandemic unscathed so far. We reconfigured the van to remove the bench seat so we have much more room in the van. We put our kitchen cabinet up against the sliding door side, the toilet across, and brought along some more comfortable seating.
Monday July 12, 2021
We had the Mercedes B Service performed on July 12, 2021 in Langley which included a four-wheel alignment. The camber of the front wheels was out of spec, so they fixed that. After the service was done, we went home, packed the van and headed east along highway #1 and highway #3 to Princeton. The Trans-Canada was closed north of Hope due to the extreme forest fires which destroyed the little village of Lytton. In Priceton, we parked across the street from the Save-On-Foods on the parking lot by the BC Liquor store. It was perfectly level and was great since we could harvest the free wifi from Save-On-Foods overnight to watch Netflix and upload videos.
Tuesday July 13, 2021
on Tuesday morning we strolled around Princeton and enjoyed the views. We then headed east again towards our next destination. Along the way we drove through Osoyoos and had lunch by the lake, then headed to Johnston Provincial Park and found a great shady spot to escape the heat of the day. We then continued on and headed east towards Rossland which we found to be a very beautiful and clean town, and drove around the area for a while.
We ended up in Trail where we had dinner and walked one of North America's longest suspension bridges hanging over the Columbia River. Beautiful views of the sun setting behind the mountains. Afterwards we headed over to the Walmart Supercentre and slept there uninterrupted. Free wifi from 150m distance with decent speeds courtesy of Walmart.
Wednesday July 14, 2021
We did some shopping at Walmart to get some new Thetford Campa Chem toilet chemicals. We had been using the Thetford Campa-Fresh type, and that stuff really stinks, so we got rid of that. We had breakfast in the van, and then headed east along Highway 3B. We stopped at the Erie Lake Rest Area to dump our toilet and put the new chemicals in the tank.
We then proceeded on for an hour or so, and stopped by the Blaze Creek Rest Area. There are thousands of rocks with inscriptions on them, along with many trinkets, doll houses, figurines. A real treasure to have come across.
For lunch we stopped at the Kid Creek Rest Area and found a nice shady spot to escape the heat and ate our lunch in the van.
We proceeded up Highway 95 towards Cranbrook, and stopped at the Campbell Myer Rest area. There is a beautiful lake which has fish and turtles! We parked in a shady spot, did some exploring, and took our first shower outside the van using a shower curtain we bought from the Dollar Store. These rip easily so we need to buy a better one. We used magnets to secure it between the open passenger door and the sliding door. We used a Home Depot storage bin as our bathtub, stepped into that to shower using a sink sprayer. It was refreshing and felt really good! Afterwards we packed up and continued to head north on Highway 95.
We arrived Fairmont Hot Springs and explored the old bathhouse and the pools of natural hot spring water. Afterwards we headed towards Golden BC, passing by Radium Hot Springs.
When we arrived at Golden we stopped by the Save-on-Foods parking lot, tried their wifi and could not get a signal. But we could reach a decent signal from the Home Hardware down the road. Uploaded our photos to the Google cloud and then headed out to find a good spot for the night along 11th Street close to a park. Very quiet at night and nobody bothered us.
Thursday July 15, 2021
Woke up in Golden BC and headed towards the Golden Skybridge. We arrived, paid the $34 fee for each of us for a total of $71 including taxes.
They are still building other parts of the park including a giant swing which will be operational sometime in August 2021 and z zipline across the canyon. There are two skybridged - the upper and lower ones. The upper one is 426 feet above the canyon and the first time we got on, it was kinda scary actually. The second skybridge was a much easier walk. The entire walk along the skybridges and trails is only 1.3km and we spent about two hours there. Definitely a very neat experience.
Afterwards, we headed back to Golden at the Husky station to grab a shower. We got a points card, and we also paid $14 for two person shower. Afterwards we activated our card, with 428 points on it, which should be good for 8 free showers. We found a shady spot behind the Prestige Hotel, and Gigi then took a nice long nap after her shower.
After our nap, we headed towards Emerald Lake and the Natural Bridge. The Natural Bridge is pretty amazing as the strong rushing glacial water goes under granite rock. A good place to explore. We then headed 7km further towards Emerald Lake - and it really is an almost bluish-green in colour. Absolutely stunning scenery. There is also a lodge there, with prices around $300 per night.
We then headed towards Lake Louise around 6:30pm. The parking lot was mostly full but we found a spot as another car pulled out. In the past parking has been free, but parking meters are now installed and charge $11.50 per day based on licence plate from 7am to 7pm. There were quite a few people viewing the lake and taking pictures - it is supposedly Canada's most photographed lake.
Due to the pandemic, the entire Fairmont Lake Louise hotel is off limits to people other than hotel guests. In past years we could walk inside and view the shops, take in the summer airconditioning, and view the historic photographs and artwork held in the lower floor of the building.
We walked around, took many photographs, then headed out to find our spot for the evening about 10 minutes east along Highway 1 which is the overflow parking lot. As you enter, there are two lots - on the left is a lot for the shuttle bus where you can park your car, and a lot on the right where you can sleep in your car, RV or van. We found a level spot far away from other vehicles and then made dinner. The view of the tall evergreen trees, the sound of the chugging train and its horn as it travels up mountains and the stillness of the air was so relaxing. We went to sleep early in order to wake up around early the next morning.
Friday July 16, 2021
Woke up at 4:30am in the Banff Overflow Parking Lot, made some coffee and tea, and then headed out to Morraine Lake. No traffic on Highway 1 until we reached the Lake Louise exit, then 3 other vehicles ahead of us on the trip up. The trip only took 25 minutes, with the parking lot in Morraine Lake already a quarter full.
The sun was hiding behind the mountains, and the water was absolutely still. The scenery is breathtaking here - so quiet and beautiful - impossible to describe without photos. We spent about 6 hours there, hiking, resting, both breakfast and lunch. Once we left and traveled down the road leading into the town of Lake Louise, we noticed that the road to Moraine Lake had been closed to traffic except for shuttle busses since the parking lot was full. If you really want to see this lake, you really need to arrive very early, and we recommend getting there between 5am and 6am.
We didn't explore the area anymore since we had been there several times. We then headed east along Highway 1 to Banff.
In Banff, the main street where all the restaraunts and gift shops are was closed to vehicle traffic with many outdoor patio seating - obviously done due to the pandemic. We have been to Banff several times in the past, so we really didn't have a need to shop. We drove up to Sulphur Mountain and took in the views. We drove around the neighbourhoods, went to the IGA grocery store to pickup some food including a fresh roasted chicken and some salad for lunch. We found a spot by the Bow RIver right in front of the Banff Canoe Club and ate lunch. On a whim we looked into renting a canoe for $50 and then canoeed along the Bow River for an hour. We had never done that here in Banff, and it was an enjoyable experience since the weather was perfect and the water was calm.
We then headed towards the Cave and Basin along Cave Road, stopped by the horse ranch nearby the skateboading park and rested for a while and had dinner. The view of the mountains, breathing in the fresh warm air was so relaxing. We spent a few hours here just parked.
Since we had been to Banff before, we decided to head to Canmore about 20 minutes east on Highway 1. We had never been here, so we drove around the neighbourhoods. Its a very clean and beautiful city just an hour away from Calgary. We drove around a new subdivision called Silver Creek which has a hotel, lodges and housing. We thought about finding a spot to sleep in the area until we saw their own private security guard vehicle and decided to not stay in that area, though there was no restrictive signage posted anywhere. We checked iOverlander and all the spots people had marked previously were now marked as closed. Since our van looks more like a cargo van than it does as an RV, we can park pretty much anywhere without being disturbed We drove around the downtown area and settled on a level spot.
Saturday July 17, 2021
We had a very good sleep with the fresh mountain air here in Canmore. No issues sleeping on the side of the road. We headed out for a walk over through the Main Street and ate a couple of fresh bagels at the Rocky Mountain Bagel Compnay. We stood in line for about half an hour, and paid $12 for two bagels with herb and garlic cream cheese. Yes, one of the most expensive bagels we ever had, but the texture of the bagel and the taste of their home made cream cheese made it worth the experience. They steam their bagels much like they do in Europe, instead of boiling them. It leads to a lighter and fluffier texture, and the cream cheese had a bit of a sour taste - in a very pleasant sort of way - and was much less pasty than the store bought Philidelphia cream cheese you'd get at places like Starbucks. They also put quite a bit of cream cheese on the bagels! Sitting outdoors on a picnic table, absorbing the mountain sights, fresh air and the people walking about made for an excellent experience.
We headed towards the van, setup for travel, then headed to the Shell station to fillup on Diesel at $1.22/l.
We then headed east along Highway 1 for about an hour into Calgary. We headed to the Jolibee Filipino restaraunt and enjoyed Filipino-style spaghetti and three pieces of spicy fried chicken with mashed potato and gravy all for $18.
Afterwards we drove into downtown Calgary to drive around the streets and get a feel for the city. A very clean city, with very positive impression of the area. It was quite hot with a 32c outdoor temperature, so we found shelter in the shade of a large building and took a nap for a couple hours.
After our nap we headed over to some different parks, all of which where packed. Hardly anybody was wearing a mask - Alberta is the Texas of the North supposedly. We drove around the downtown area, and lots of pubs were packed with people celebrating the Calgary Stampede - many dressed with cowboy hats and boots on. We drove over to the Riverwalk along the Bow River in downtown Calgary, ate dinner and then signed up for the Neuron Scooter app. So many people riding scooters downtown, it looked like fun! So we found two of the orange scooters and rode for about 35 minutes. The cost is $1.15 to start, and $0.35/minute to ride a scooter along the Riverwalk. A great experience, and Gigi's first time as well.
We drove around the Calgary area some more, getting a feel of this great city. We found a spot in South Calgary called the Garrison Woods, next to Flaners Park on a level part of the road, and called it a night.
Sunday July 18, 2021
We woke up to 90% humidity with a lot of fog and mist. We drove over to the local Starbucks in the area so we coule leverage their free wifi inside the van. Uploaded photos and apps, and got up to date again with our laptops. We had coffee, tea and breakfast inside the van.
We wanted to visit the Calgary Tower but with the sudden influx of the smoke from the BC wildfires, it would have made for very poor visibility. So instead we drove up along the main Highway 2 towards Edmonton. We stopped at the Costco just south of Red Deer for lunch in their parking lot, and bought some mixed nuts for snacks along the way.
We then stopped in Red Deer to take a look what the city was like, and the downtown was very beautiful with all the hanging potted flowers in the main street. The Bird and Neuron scooters are all over the place, which seems like a recent addition to the city.
We continued our drive north, and there was lots of thick smoke in many parts of the area. Lots of canola fields with the well known yellow flowers. We took a break at the Wetaskiwin Rest Centre to dump our toilet, and then we continued north.
As we came into South Edmonton it was time to visit our second Jollibee in Alberta, this time the South Edmonton location right next to the highway. It's definitely a favourite place for all Filipinos to visit. In Alberta, we've seen a lot of Filipino, many more than in BC.
We drove around the Edmonton area a lot just to get a feel for the city. It is the capitol of Alberta, with 1.2 million population.
We drove out to West Edmonton to find the mall which had already closed for the day at 6pm, and we then found a spot to stay for the night in a residential neighbourhood.
Monday July 19, 2021
We slept well on the street overnight, waking up around 7:30am and immediately headed over to the West Edmonton Mall to find a surface parking spot by the Waterpark. We had coffee and tea and breakfast while we waited for the mall to open up at 10am. Once open we explored the mall, bought some much needed shoes at Famous Footwear, went to Uniqlo and H&M and T&T. The Waterpark was open since July 1, but the other attractions like the otter show and the Treasure Island were not operating when we were there. The ice rink has a few people skating around though.
We desperately needed a shower, so we headed over to the Husky Cardlock (Esso) in North Edmonton, paid $10 and both of us used the same shower stall. We felt really clean and refreshed afterwards.
After the shower, we headed over to our third and final Jollibee in West Edmonton and had an order of Palabok, along with 3 pieces of spicy fried chicken, gravy, and mashed potato. Yummy!
We drove around some more exploring West Edmonton, found a strip mall and parked to use some free wifi courtesy of Michael's Craft Store. All our latest batch of photos were uploaded and did some social media and took a short nap.
We then got ready to head over to some friends in West Edmonton. We used their water hose to fill up two of our water kegs. In one week, we used up just less than 20 gallons of water. Our other two kegs still have some water in them. So for the two of us, 20 gallons of water will last us roughly one week before having to fill up. We had a tour of our friends home, ate Filipino food - chicken and pork BBQ skewers, Palabok, Babinka and some deep frid calamari. We left around 10pm, and then headed west along Highway 16 Yellowhead Highway and stopped in a tiny hamlet called Wabamun and found a nice quiet level spot and called it a night.
Tuesday July 20, 2021
We woke up at 7am in Wabamun Alberta, on an abanboned subdivision without any homes. It was dead quiet overnight except for the occassional freight train passing in the distance.
We drove a lot today.
Wednesday July 21, 2021
We woke up at the Esso Truck stop in Barriere BC, had breakfast, washed the bugs off the windshield and headed south on Highway 5. We drove all the way down to Hope, connected to the Save-on-Foods wifi, uploaded our photos, watched a movie and rested. Afterwards it was just a matter of traveling home where we arrived at around 6:30pm and started to clean out the van.
Total trip distance was 3,081km and a cost of $450 in diesel, averaging just under $0.15 per km for the entire trip. Odometer start of the trip was 146,451km, ending at 149,532km.
20Jan2021 Day trip to Stanley Park in Vancouver BC
Nights This Trip: 0, Total Nights Sleeping in the Van during 2021: 0, Months: 0.0
Just a short day trip over to Stanley Park. Drove by Strathcona Park and Downtown East Side on the way there. Here's a short video of what we saw.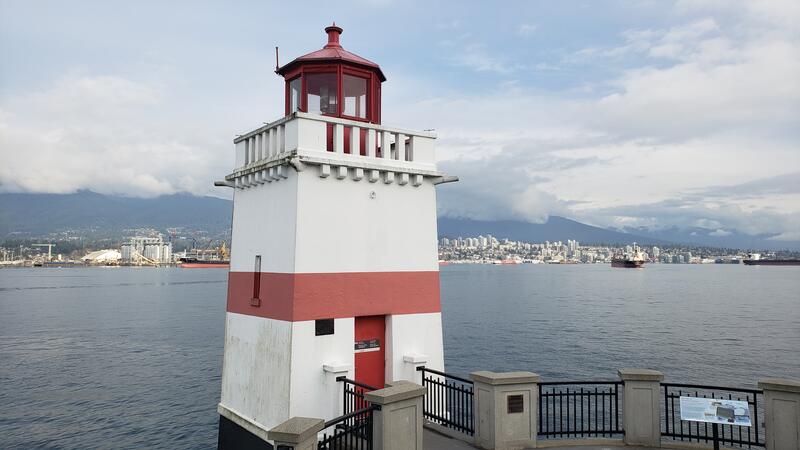 Then off to the amazing Stanley Park drive in Vancouver BC.
19Jan2021 Day Trip to Whistler Village BC
Nights This Trip: 0, Total Nights Sleeping in the Van during 2021: 0, Months: 0.0
A beautiful sunny day so we decided to drive up to the Whistler area. We visited Alexander Falls in the Callaghan Valley, then headed over to Whistler Village. Hardly any people there due to the pandemic. We did a walking tour of the area to show you what it was like.
A short hike over to Alexander Falls…
Followed by a walk through the Whistler Village…
18Jan2021 Day Trip to Manning Park BC
Nights This Trip: 0, Total Nights Sleeping in the Van during 2021: 0, Months: 0.0
A drive east along Highway #1 and Highway #3 to Manning Park. Captured some driving footage and a walk along the frozen lake called Lightning Lake.
2020 Travel Journal
Click on our 2020 Travel Journal link for all the details.